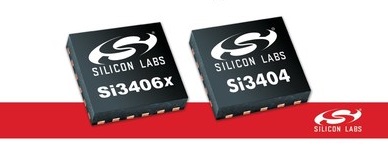 The new Power over Ethernet devices. Source: Silicon LabsSilicon Labs has introduced a range of products at the 2018 Applied Power Electronics Conference including two new Power-over-Ethernet (PoE) families and the latest tiny Gecko series microcontrollers.
The PoE devices are used in internet of things (IoT) applications such as IP cameras, smart lighting luminaires, video IP phones, 802.11 wireless access points and smart home appliances. The ICs support IEEE 802.3 at PoE+ power capabilities, flexible power conversion options exceeding 90 percent efficiency, robust sleep/wake/LED support modes and EMI immunity.
Demand for PoE+ applications is growing in the IoT space that requires higher wattage, driving increased demand for PD devices that support the PoE+ standard, Silicon Labs says. The new ICs integrate all power management and control functions required for a PoE+ PD application, converting the high voltage supplied over a 10/100/1000BASE-T Ethernet connection to a regulated, low-voltage output supply.
The architecture minimizes printed circuit board footprint and external BOM cost by enabling the use of economical external components while maintaining high performance.
Meanwhile, the EFM32 Tiny Gecko MCU family has been expanded for developers to design the next generation of secure, battery-powered connected devices for IoT. The new EFM32TG11 is used for devices that require a long battery life and no compromises in features or security.
This includes applications such as smart meters, personal medical devices and home automation products with multiple sensors, local displays and touch controls. The MCU can be used as a standalone microcontroller or with network coprocessors.
When paired with a transceiver, system-on-chip or module, the Gecko 11 MCU can manage both the application code and wireless connectivity. When used with sophisticated protocols such as 802.11 b/g/n Wi-Fi, the wireless system can be simplified by portioning the Tiny Gecko 11 to manage the MCU application.
The Gecko 11 is based on the ARM Cortex-M0+ processor running at 48 megahertz while combining low active current consumption, fast wake-up times, a range of sleep modes and other architectural enhancements for secure, battery-powered IoT products.
The 2018 APEC conference is taking place this week in San Antonio.