Flight tests have been competed for a vertical take-off and landing (VTOL) fixed-wing unmanned aerial vehicle (UAV) developed by ULC Robotics (Hauppauge, N.Y.). The commercial-grade VTOL fixed-wing UAV was specifically developed to meet the inspection needs of electric and gas utilities.
The aerial platform features a 10-foot wingspan and a sensor payload capacity of 10 pounds for conducting fully-autonomous aerial inspections and assessments of a variety of utility structures and properties, including electrical transmission lines, gas transmission pipelines, and right of ways.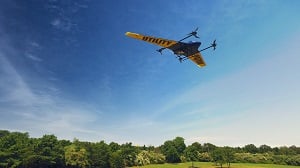 The VTOL UAV for electric/gas utility applications successfully completes flight testing. (Source: ULC Robotics)A set of eight quadcopter rotors enables VTOL, and after reaching a predetermined altitude and airspeed, the aircraft transitions into highly-efficient, forward flight. This design combines the practical functionalities of a multi-rotor UAV and the speed and range of a fixed-wing aircraft.
In order to collect specialized data for utility customers, the company will be integrating a variety of sensor and monitoring payloads into the VTOL platform. The UAV will continue to be flight tested with radiometric thermal cameras and high-resolution DSLR imaging systems.
ULC Aerial Services division also plans to integrate LiDAR, gas leak detection sensors and other advanced systems onto the payload of the drone.
The craft is currently running an electric propulsion system with a one to one-and-a-half hour flight time. In the near-term, ULC Aerial Services intends to integrate an electric/gas hybrid propulsion system that will allow for a five-hour endurance and 50 mph cruise speed (250-mile range), laying the groundwork for beyond visual line of sight flight.