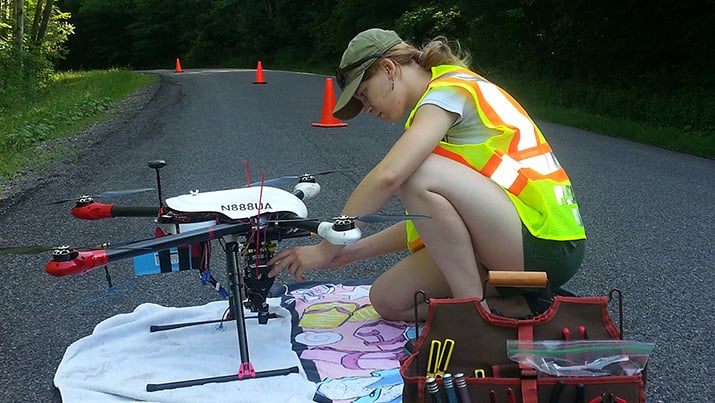 Researcher Charlotte Levy preflighting a drone that will measure surface reactivity. Image credit: Cornell University.Cornell researchers are using drone technology to better measure surface reflectivity of the earth's landscape – which could offer a new way to manage climate change.
"When making predictions about climate change, it's critical that scientists understand how much energy the earth is absorbing and retaining," said Ph.D. candidate Charlotte Levy, who recently presented a talk on her research at the annual Ecological Society of America meeting, in Portland, Oregon.
Levy says that albedo, the scientific name for surface reflectivity, is "one of the main controls of the Earth's overall energy budget." Typically, albedo is measured via satellites and sensors placed on research towers – but these are not moveable, and there are too few of them to make albedo comparisons between nearby locations.
This is important for employing earth-cooling techniques such as forest-planting. In certain conditions – such as locations blanketed with reflective snow cover for long portions of the year – planting trees can actually have a warming effect. The slow-growing trees create a dark surface that absorbs energy, and sequester less carbon.
"The drones allow for measurements to be taken wherever they are needed," Levy said. "We can send one to hover above a forest and then have it fly across the road where the same forest was thinned five years earlier, and we can measure precisely what the difference is."
This isn't the first time that someone has tried to employ drones for this kind of research; in the past, however, the heavy sensors required have been a stumbling block for balanced flight. Levy and her team solved this challenge by placing only the downward-facing sensor on the drone, while leaving the upward-facing sensor in a nearby field.
The team is currently validating their method by comparing drone measurements to those taken by satellite and tower.
Much of Levy's researched is based on where to plant forests for maximum impact on climate change, answering questions such as how forest thinning compares to the planting of a particular species mix.
Albedo measurements are also used for global models that are the basis of climate predictions. The more accurate and numerous these are, the better those predictions will be.