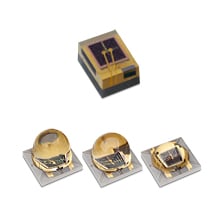 The Luxeon IR family of infrared emitters. Image credit: Lumileds
Lumileds has introduced a family of infrared emitters targeted at facial recognition and gesture scanning, wearable health monitors, machine vision, night vision cameras and other industrial/biotech applications.
The IR devices combine high radiant intensity imaging with a low thermal resistance in wavelengths above the visible spectrum at 850 and 950 nm. The 850 nm emitter has a high system efficiency, which may leave it susceptible to interference from sunlight and a reddish glow. Meanwhile, the 940 nm wavelength emitter is almost invisible and less sensitive to sunlight.
Lumileds says the 850 is a workhorse for use in CCTVs and other IR imaging applications while the 950 nm is more suitable for stealth devices.
The Luxeon IR family includes the IR Compact line that provides a high radiant power density up to 1,150 mW at 940 nm while the Luxeon IR Domed line uses various beam angles and achieves radiant power up to 1,400 mW at 940 nm.
The devices are risk free for eye safety and have been tested to run for more than 30,000 hours.