New Yorker Electronics has broadened its optoelectronics portfolio with the release of six new high-power infrared (IR) emitters in a 3.4 mm x 3.4 mm 3-SMD, no lead surface-mount package. These new Vishay IR emitters are available in wavelengths of 850 nm and 960 nm and in heights varying from 1.8 mm to 2.9 mm.
Built on Vishay's SurfLight surface emitter chip technology, the new Vishay Semiconductors VSMA1085400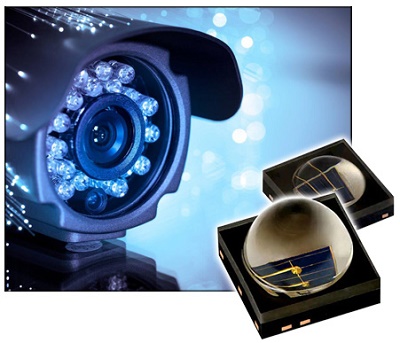 Source: New Yorker Electronics (2.9 mm), VSMA1085250 (2.4 5 mm), VSMA1085600 (1.8 mm), VSMA1094400 (2.9 mm), VSMA1094250 (2.45 mm), and VSMA1094600 (1.8 mm) are infrared, 850 nm emitting diodes that feature a double stack emitter chip for highest radiant power. The 42 mil chip size allows for 1.5 A DC operation and supports pulsed currents up to 5.0 A.
The series has a J-STD-020-rated floor life of 168 hours and an electrostatic discharge up to 5 kV according to ANSI/ESDA/JEDEC JS-001. The Vishay VMSA was also designed with a low thermal resistance (6 K/W less than RthJSP less than 9 K/W) and an angle of half intensity at ± 40°.
Applications for this line of Vishay infrared emitters include driver and occupant monitoring, eye tracking and safety and security such as CCTV. Supporting lead-free reflow soldering, the devices are RoHS-compliant, halogen-free and Vishay Green.