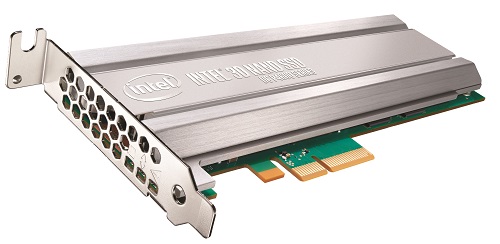 The SSD DC P4600 Series. Image credit: Intel Corp.
Intel Corp. has released two new solid state drives (SSD) in a "ruler" form factor that enables up to 1PB of storage in a 1U server rack.
The Optane technology dual port SSDs are targeted at data centers and mission-critical applications as a replacement for standard hard disk drives (HDDs). The "ruler" form factor has a long, skinny shape that shifts storage from the legacy 2.5-inch and 3.5-inch form factors that follow traditional HDDs. The new form factor takes advantage of PCIe card slots and eliminates the constraints on shape and size, Intel says.
The 1PB in a 1U server is enough to store 300,000 HD movies or about 70 years of nonstop entertainment. The dual port Optane SSDs replace SAS SSDs and HDDs while delivering more IOPS, more bandwidth and lower latency than SAS SSDs.
The new dual port Intel SSD DC D4500, D4501 and D4600 are available now and the dual port Intel Optane SSDs are shipping to select customers for validation with broader availability in the fourth quarter.