Network semiconductor and software solutions supplier PMC-Sierra, Inc. has introduced the HBA 1000 series of 12Gb/s SAS/SATA Host Bus Adapters, the first products in the company's Smart family of solutions for high-performance cloud and enterprise server storage connectivity. The network connectivity solutions use the PMC Adaptec management tools and drivers designed to enable easy deployment across a wide variety of data center applications.
With up to 16 internal or external SAS/SATA ports in a low-profile MD2 form factor, the HBA 1000 provides a native server connectivity solution designed to handle demanding workloads and configurations.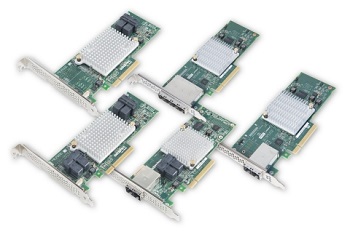 PMC Adaptec HBA 1000 series of 12Gb/s SAS/SATA Host Bus AdaptersA low-profile form factor and mini-SAS HD connectors allow the HBA 1000 to install into 2U servers for maximum native connectivity in the smallest footprint with no impediment to air flow. It is fully compatible with RAID adapters and expanders for complete scalability to store, retrieve and manage data across SSDs, HDDs and tape drives.
The HBA 1000 saturates the PCIe Gen 3 bus and delivers up to 1.3 million I/Os Per Second (IOPS) with SAS SSDs, utilizing 60% less power than competing HBAs. This lowers energy consumption and helps avoid the heat dissipation issues that are typically found in dense server environments. The HBA 1000 also delivers 2.5 times greater sequential throughput and 85% higher random read performance for cloud data centers deploying SATA drives for application acceleration, compared to a common configuration of up to 10 SATA SSDs attached directly to the server without an HBA.
The HBA 1000 has broad operating system and Software Defined Storage (SDS) stack support, ecosystem compatibility and a unified set of tools and drivers with forward and backward compatibility with other PMC Adaptec solutions. Management and compatibility are further enhanced by supporting both 6Gb/s and 12Gb/s storage components.
The HBA 1000 is available in five different models, with up to 16 internal or external SAS/SATA ports and supports PCI Express 3.0.