The solid-state drive (SSD) business has been very good to Samsung Electronics Ltd. recently. Last year the South Korean electronics giant, which has been taking an increasingly dominant share of the $14 billion worldwide SSD market, extended its share from 29.6% of the industry's 2014 production to 40% of the more than 100 million SSDs shipped in 2015, according to IHS Technology.
Samsung extended its leading share of worldwide SSD shipments in 2015, while SanDisk's share declined.
Source: IHS Research
SSD Market Leaders
(% of WW units shipped)
| | | |
| --- | --- | --- |
| | 2014 | 2015 |
| Samsung | 29.6% | 40.0% |
| SanDisk | 21.9% | 10.8% |
| Kingston | 7.7% | 9.8% |
| Intel | 8.2% | 7.7% |
| Lite-On | 5.4% | 6.3% |
| Others | 27.2% | 25.5% |
Source: IHS Research
IHS reports that Samsung shipped nearly four times as many SSDs last year as its closest competitor, SanDisk Corp., whose market share fell from 21.9% in 2014 to 10.8% in 2015 after it reportedly lost a contract to supply SSDs for Apple Inc.'s notebook PCs.
SSDs, which store data on flash memory chips instead of on the spinning magnetic disks used by traditional hard disk drives, are being adopted in a growing number of products, especially notebook PCs and enterprise servers. Users are increasingly willing to pay a premium for SSDs' greater durability, lower energy use, instant startups, and faster data storage and retrieval. Taiwan's DRAMeXchange, a division of TrendForce, expects more than 30% of notebook PCs produced this year to be equipped with SSDs.
Don Jeanette, Research Vice President for Trendfocus, Inc., credits much of Samsung's recent success to its early introduction of SSDs using 3D NAND memory chips, which cost less to produce than previous NAND chips and can hold more data by stacking multiple storage layers on top of each other. Samsung began mass-producing 3D NAND, which it calls vertical NAND (V-NAND), nearly a year before its competitors. It recently introduced its third generation of V-NAND, using a 48-layer, 256-gigabit (Gb) design. "They've had a fantastic lead, but other vendors are coming online with competing 3D NAND SSDs this year," Jeanette says.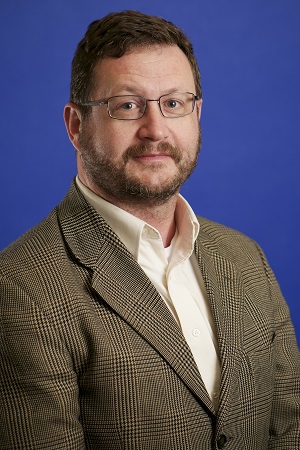 Samsung's Richard Leonarz. Source: Samsung Electronics
Richard Leonarz, Director of Memory Product Marketing for Samsung's Business Division, says that V-NAND SSDs are notable not just for their performance and attractive pricing, but also for their durability— a weak point for some triple-level cell (TLC) NAND devices, which gain extra storage capacity by storing three bits of data per memory cell. "We have really focused on making sure our performance and endurance remain high," he says.
Leonarz expects Samsung's SSD business, and the overall SSD market, to continue growing strongly as more users come to appreciate the performance advantages of SSDs and as the cost of solid-state storage keeps falling.
Declining SSD Prices
SSD retail prices have dropped from $1 per gigabyte (GB) to less than $0.40 per GB during the past three years, and DRAMeXchange expects them to reach $0.25 per GB later this year. As a result, 256 GB SSDs that cost $125 last year are now selling for about $85, nearly a 30% reduction. "How long can this type of behavior last?" asked Trendfocus's Jeanette in a recent blog post warning that such "aggressive price erosion" may be unsustainable.
As prices continue to fall, however, demand for SSDs is gaining momentum. DRAMeXchange expects SSDs to be used in more than 30% of notebook PCs produced this year. SSDs are also making inroads into enterprise computing, where corporate data centers are struggling to manage the huge growth in cloud storage and data analysis. Enterprise SSDs typically are priced higher than consumer-level SSDs because they offer more reliability, durability and energy efficiency. They also tend to command better profit margins.
Seagate Technology PLC raised the performance bar for enterprise SSDs last month by demonstrating the world's fastest SSD, which uses a non-volatile memory express (NVMe) interface to transfer up to 10 GB of data per second. Samsung, meanwhile, set another benchmark in March by shipping the industry's highest-capacity SSD, a 15.36 terabyte (TB) drive that can store the contents of more than 600 Blu-ray video discs in a 2.5-inch form factor.
SSD Market Strategies
Although its overall SSD market share dipped slightly in 2015 to 7.7% of units shipped, Intel Corp. is doing much better in enterprise SSDs, where it was by far the top supplier last year. "They have really established themselves as leaders in the enterprise market," says Craig Stice, IHS Senior Principal Analyst for SSDs.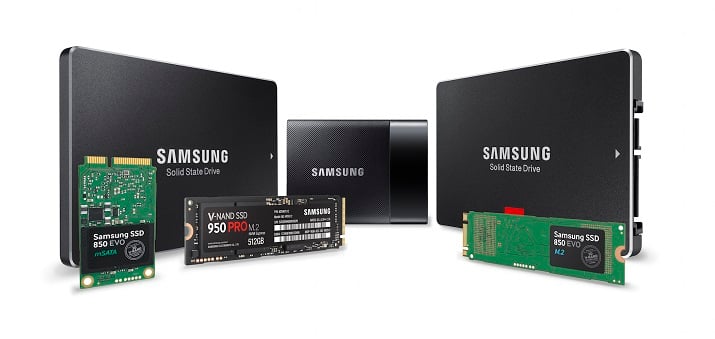 Samsung's market-leading SSD products include a wide range of performance, capacities and formats. Source: Samsung Electronics
Stice notes that Intel produced just over 30% of enterprise SSDs in 2015, followed by Samsung with 22%. As the leading maker of PC microprocessors, he adds, Intel has the advantage of being "a total solution provider" to enterprise customers.
Pat Perry, Vice President of Intel's non-volatile memory solutions group, agrees that Intel's ability to supply both SSDs and processors is one reason for her company's enterprise success. "Each makes the other better," she says. Intel's SSDs also offer outstanding performance and reliability, she adds, thanks to unique features such as circuitry that automatically detects imminent power loss and saves all in-process data.
Perry also has high hopes for Intel's new "Optane" line of high-endurance, high-performance SSDs scheduled for introduction later this year. Based on 3D XPoint technology—a new kind of non-volatile memory developed in partnership with Micron Technology Inc. —the new SSDs are not expected to be quite as speedy as Intel's new Optane-brand chips, which are up to 1,000 times faster and more durable than conventional NAND memory. But they should still be much faster than current SSD options, making them attractive to users seeking fast access to large sets of data.
While other SSD suppliers target the enterprise sector, Kingston Technology Corp. pulled ahead of Intel in unit shipments last year by targeting after-market system builders and first-time SSD buyers. "Where we've grown our sales volume is on the entry level, selling drives to consumers who more and more are able to experience SSDs because of the price point coming down," says Louis Kaneshiro, Senior Technology Manager for Kingston's SSD product engineering group.
Kingston is one of the few leading SSD makers that does not manufacture its own memory or controller chips. It makes up for that, however, by sourcing from multiple suppliers and being willing to mix and match a variety of components and firmware to meet buyers' specific needs. "We're a little more nimble," says Kaneshiro. "We provide a level of service that larger companies can't, or won't."