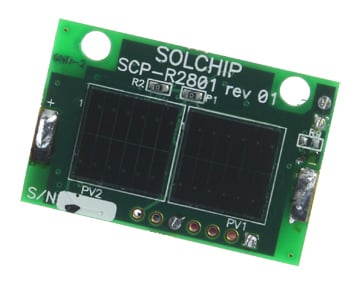 The Sol Chip power module. Image credit: Saelig Company
Saelig Company Inc. has introduced a new solar power module that contains all the components needed to harvest energy from ambient light, charge a rechargeable battery and deliver stable voltage.
The Sol Chip integrates a solar cell, rechargeable battery and advanced power management circuitry for designers to create fit-and-forget light powered products that can recharge themselves. Saelig says the Sol Chip can even provide power in office light environments.
The output voltage of the Sol Chip is 3.6 V but other voltages are also available, including a six-cell version that provides average output current of up to 750 uA with up to 1.5 A peak current.
The Sol Chip is suited for remote sensors and monitoring systems in applications such as agriculture, farming, drip-irrigation systems, weather testing as well as the internet of things, wireless sensor networks and wearables. Other applications include those for smart city solutions from parking to security and utility meters, data loggers, GPS emergency locators, animal tracking devices, GPS asset/container tracking, GPS vehicle tracking, environmental measurement and RFID devices.