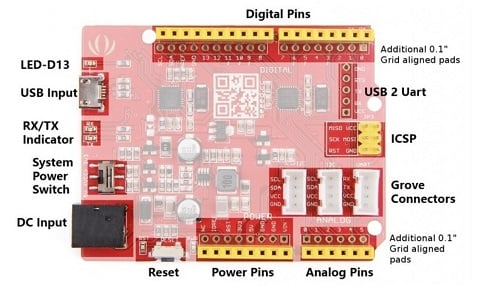 The Seeeduino V4.2 developer board. Source: Seeed StudioSeeed Studio has rolled out an Arduino compatible board for DIY projects that is priced about 65 percent lower at just $6.90.
The goal of China-based Seeed as they developed the Seeeduino V4.2 is to bring a low priced developer board that hobbyists and tinkerers can use a new unit for each DIY project, instead of deconstructing projects and reusing the board.
The board is based on the ATmega328P processor and is compatible with the Arduino UNO bootloader. The board comes with additional through-hole pads for all pints that are aligned to the standard 0.1-inch grid. This allows for easy soldering into the breadboard or creates a user attachment/shield with 0.1-inch dot-matrix general purpose printed circuit boards (PCBs), according to Seeed.
The board is programmed via a micro-USB cable or it can be powered via a DC jack input. There is a switch to choose the system's supply voltage either 3.3V or 5V. There are three on-board Grove sensors to allow users to plug in Grove sensors without additional hardware.
The $6.90 Seeeduino V4.2 is now available on the Seeed Bazaar.