I don't know if you've ever tried to create 3-D computer graphics content, but it's complex and tedious. Generating new 3-D shapes with software programs such as 3D Studio Max or Blender typically involves part-by-part assembly following a bottom-up, hierarchical approach.
Enter GRASS, or Generative Recursive Autoencoders for Shape Structures, a new computational method designed to streamline the process. The model is based on deep neural networks and uses machine-learning techniques and artificial intelligence to eliminate the need to generate multiple 3-D shapes by hand. It enables the automatic creation of plausible, novel 3-D shapes, giving graphic artists greater ability to bring their creations to life – and has the potential to transform multiple industries, including film, video games, virtual reality and computer-aided design (CAD).
The model was developed by a team led by China's National University of Defense Technology (NUDT) that also included researchers from Adobe Research, Indian Institute of Technology, Bombay, Simon Fraser University and Stanford University. As described in their paper, the team utilized a recursive autoencoder for shape structures to replace the tedious part-by-part assembly steps. Sampling from a deep generative model, GRASS learns to encode 3-D shapes and generate new ones. As a major advance over prior work, GRASS integrates shape variability into a principled framework without limiting the number of possible parts in a shape – and without needing to be told which part is which.
"Our work is a data-driven automatic shape generation computational method," said Kai (Kevin) Xu, an associate computer science professor at NUDT. "Given a set of example 3-D shapes, our task is to generate multiple shapes of one object class, automatically. For example, given a set of chairs, our method can create more chairs but with different geometric structures, and do so quickly and simply, allowing even a novice user to utilize our method."
A showcase of the researchers' work is on the docket for SIGGRAPH 2017 conference in Los Angeles, hosted by a special interest group within the Association for Computing Machinery (ACM). The conference runs July 30 to Aug. 3.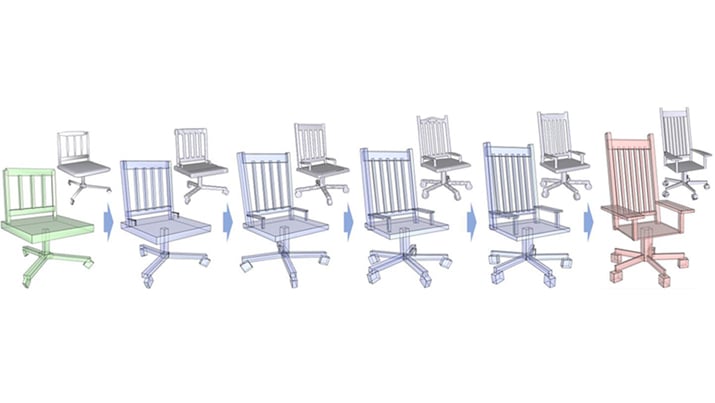 GRASS in action: Discrete blending generates plausible 3-D shapes in between the values of two illustrations. Image credit: National University of Defense Technology.