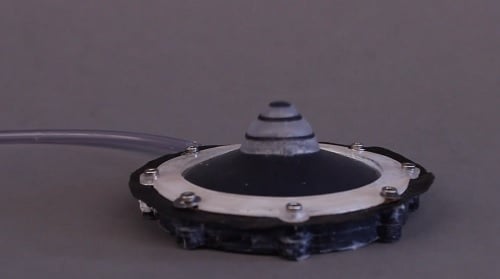 The research could result in new camouflage techniques for the U.S. Army. Source: Cornell University
Researchers from Cornell University are working on a method to morph flat surfaces into 3D shapes on demand that is inspired by an octopus.
The method transforms stretchable 2D objects into 3D shapes using a rigid mesh, laser cut in a way that when attached to a stretchable material constrains the material to form targeted shapes when inflated much the same way a balloon is expanded when air is sent into it.
Researchers studied octopuses in a 300-gallon aquarium in their lab to study the color and texture-morphing abilities. The method could change the way scientists develop next-generation robotics.
"There are many complicated ways to create a texture change in a robot, but we wanted a very simple way to do it," says Rob Shepherd, assistant professor in the Sibley School of Mechanical and Aerospace Engineering at Cornell University.
The research was funded by a grant from the Army Research Office, which wants the technology for potential camouflage purposes. However, the Army could also use the technology for other means.
"If you wanted to take a round balloon and shape it so it looked like a box, it would be pretty difficult—unless you just put it in a box," says Itai Cohen, professor of physics in the College and Sciences at Cornell. "That's the materials and engineering challenge: How can you take these soft materials and control the shape of them?"
An octopus is able to change its shape to blend into its surroundings through activation of its papillae—protuberances that extend from the body by contraction of the erector muscles within. The Cornell work mimics this method combining two materials—a fiber mesh embedded in a silicone elastomer—that acts as synthetic tissue groupings. This combination allows the material to inflate in the direction and shape desired.
"To design a particular shape you figure out what its slope is at every point, then you design the amount of strain by including more or less mesh in the region," Cohen says.
This method could result in a robot with an arm that inflates to perform a particular task. The next steps will focus on the ability to change color as well as texture and create more precise shapes with higher-resolution laser patterning.
The full research can be found in journal Science.