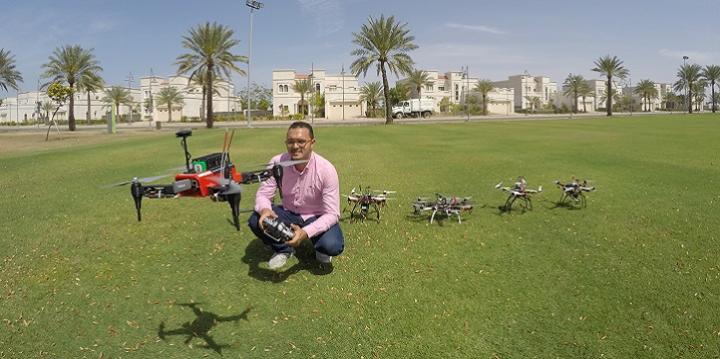 Mohamed Abdelkader is one of the researchers who developed an algorithm that enables a team of unmanned aerial vehicles to work together in real time under a capture-the-flag scenario to intercept an attacker drone. Source: Kuat Telegenov
KAUST researchers created software and hardware that allows teams of unmanned aerial vehicles (UAVs) to communicate and coordinate movements.
"Giving UAVs more autonomy makes them an even more valuable resource," says Mohamed Abdelkader, who worked on the project with his colleagues under the guidance of Jeff Shamma. "Monitoring the progress of a drone sent out on a specific task is far easier than remote-piloting one yourself. A team of drones that can communicate among themselves provides a tool that could be used widely, for example, to improve security or capture images simultaneously over a large area."
To test the software, a team of unmanned drones and one researcher-controlled drone played a game of "capture the flag." The unmanned drones were on the defensive side, working together to stop the offensive controlled drone from getting past them.
Instead of having a central base station requiring high-power computing for drone communication, the team custom-made each drone with a low-power Wi-Fi module. This enables the drones to communicate with each other without a third party.
The researchers found the drones were successful in indoor and outdoor testing fields, in various scenarios.
The team's end goal is to allow drones to work in large indoor and outdoor areas with more adaptive machine-learning techniques.
The paper on the new software was published in IEEE International Conference on Robotics and Automation (ICRA).