In nature, ants swarm to find food and make their way back to the colony. Birds fly in flocks without colliding, creating what look like complex patterns in the sky. The ants and the birds make it look easy, but programming machines, such as drones, to exhibit the same behavior is anything but simple.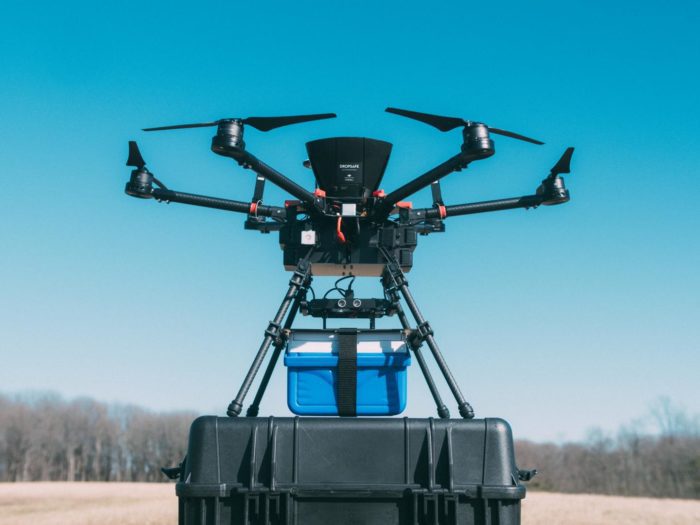 Inexpensive drones, flying in swarms, could map oil spills quickly and efficiently.Unlocking the formula, however, will enable massive armies of drones to complete difficult and useful tasks, with very little computing power and virtually no risk of a mid-air collision. "Nature may not proactively use mathematics, nor does it have foresight. It behaves in ways driven by feedback, implicit drive for adaptation, and a certain degree of apparent randomness," said Souma Chowdhury, Ph.D, assistant professor of mechanical and aerospace engineering in the University at Buffalo's School of Engineering and Applied Sciences. "But we can look at what kind of mathematical principles define that behavior. Once we have that, we can use it to solve very complex problems."
Chowdhury, along with UB students Zachary Ball and Philip Odonkor, recently completed a study called "A Swarm-Intelligence Approach to Oil Spill Mapping using Unmanned Aerial Vehicles," where he optimized and simulated a five-drone swarm to detect an oil spill efficiently and affordably.

"Communication is the foundation of any swarm," he said, in a presentation of the paper at the American Institute of Aeronautics and Astronautics' Science and Technology Forum. One of the keys to the success of the project was finding a way for the drones to communicate with each other in a low bandwidth format, in order to keep the processing power required—and hence, the overall cost—down
How They Work
Chowdhury devised a way for the drones to quickly record whether they are over water, oil, or at the edge of the spill. The drones can also assume the space around the oil is oil, as well—although that's not reported as a certainty. By sharing this specific data, rather than images or video, with the rest of the swarm, bandwidth requirements remain low.

Drones also record—and report—the terrain that has already been covered, to avoid two drones flying through the same airspace. With five drones recording observations every five minutes, a one-kilometer wide spill could be mapped in nine minutes.

In addition, the drones can fly to their base when their batteries run low, leaving the task to a replacement drone that has already received the same data as the rest of the swarm.
"There is no need for human interaction during its entire mission," said Chowdhury. "That's the big deal."
Affordable, Efficient, Practica
Because of the simplicity of the data collected, each drone can operate with a low-cost Raspberry Pi computer loaded with Chowdhury's innovative software. Consumer-grade drones, retailing for under $1,000 and stocked with a mountable camera system and Raspberry Pi running the software, should be able to complete complex tasks.

Chowdhury has demonstrated a swarm's ability to map oil spills, but the drones and software could also be used to map forest fires, track natural disasters, and perhaps even locate people trapped after an earthquake, depending on the cameras deployed.