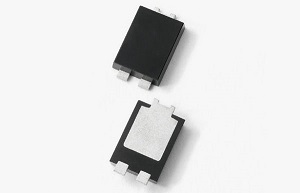 Image credit: LittelfuseDST Series Schottky Barrier Rectifiers from Littelfuse, Inc. (Chicago, Ill.) combine ultra-low forward voltage drop, high-current handling, high-junction temperature capability and low-leakage performance in a compact TO-277B surface mount package. For automotive applications up to 10 amps, it offers the same or better performance as Schottky Barrier Rectifiers provided in D-PAK packaging, with a footprint only one-third of the size.
Typical applications for DST Series Schottky Barrier Rectifiers include high-frequency switch-mode power supplies (SMPSs) and DC-DC converters found in automotive applications such as Advanced Driver Assistance Systems (such as cameras, sensors and electronic control units), infotainment systems (GPS, audio, etc.), LCD displays and LED headlights and tail lights. Other uses include polarity protection diodes and reverse blocking diodes.
Key benefits include:
• Ultra-low forward voltage drop (VF) reduces thermal and electrical conduction losses, thereby improving system efficiency.
• Providing high-speed switching for use in very high-frequency applications with minimal switching loss.
• High-junction temperature capability ensures high reliability in high-ambient temperatures and applications with minimal cooling available.