Circuit protection device supplier Littelfuse has introduced the LFUSCD Series of Silicon Carbide (SiC) Schottky Diodes. When compared to standard silicon bipolar power diodes, the LFUSCD Series SiC Schottky diodes allow designers to reduce switching losses, accommodate large surge currents without thermal runaway, and operate at higher junction temperatures, all of which enable substantial increases in system efficiency and robustness.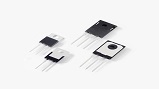 LFUSCD Series Silicon Carbide (SiC) Schottky diodes. Source: Littelfuse

The merged p-n Schottky (MPS) device architecture of the LFUSCD Series ensures enhanced surge capability and reduced leakage current. Available in voltage ratings of 650 V and 1200 V at current ratings ranging from 4 A to 30 A, they are well-suited for a broad range of markets, including industrial power supplies, solar inverters, industrial drives, welding and plasma cutting, and EV/HEV charging stations.
The diodes offer best-in-class capacitive stored charge and near-zero reverse recovery make these devices suitable for high frequency power switching, ensure negligible switching losses, and reduce stress on the opposing switch. Low forward ensures low conduction losses. Maximum junction temperature of 175°C provides for a larger design margin and relaxed thermal management requirements. 
 
The diodes are available in tubes in TO-220 two-lead and TO-247 three-lead packages.