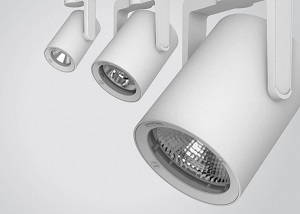 The SPEQ line of fixtures. Image credit: Amerlux
Amerlux has unveiled a new line of light emitting diode (LED) track and surface mount fixtures for use in commercial, retail and gallery environments.
The fixtures come in three cylindrical shaped models: a 48-watt large version delivering up to 3,977 lumens, a medium style at 26 watts with 2,056 lumens and a small 15-watt model with up to 1,310 lumens.
The SPEQ line of track LEDs provides a color rendering index (CRI) up to 90-plus, with efficacy up to 91. The accent luminaires dim with TRIAC and extra-low voltage dimmers on a 120-volt/277-volt system. Beam spreads range from narrow spot to wide flood and all spreads in between.
Options for the track lighting include snoot, hexcell louver, Solite beam softening lens, linear spread lens and cross blade.