With the next evolution of Mouser Electronics' Empowering Innovative Together™ series, Mouser and Grant Imahara team up with the creative minds at WIRED Brand Lab to take a look at the modern city. Sponsored this year by our technology partners Analog Devices, Intel, Microchip and Molex, we're traveling the world to see and learn from the innovators and progressive companies creating a more livable future for our cities. We're asking insightful questions: How can technology make our hectic lives better, and what solutions will it provide to the everyday problems today's ever-growing cities face? Across the globe, there are many innovators hard at work already employing technology to create smarter cities that are more efficient, less polluted and more sustainable.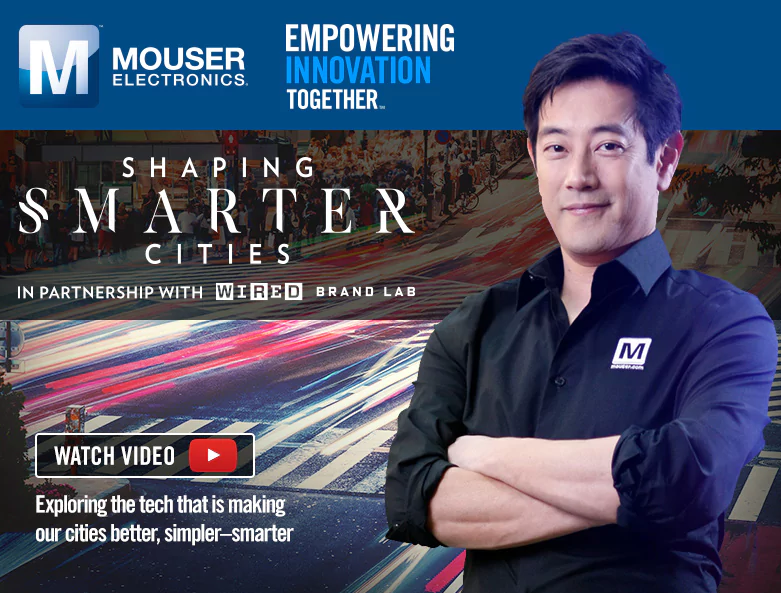 In the second episode of our 5-part video series, Grant heads to Porto, Portugal to meet with Veniam, a local tech company that's transforming everyday traffic into a Wi-Fi mesh network comprised of roving hot spots.
Porto is an old world city with new world problems: congestion, pollution, and massive demands for data. The average citizen of Porto spends 118 hours a year in traffic. This traffic not only robs them of their time but also creates pollution.
Veniam has created a mesh network of roving hotspots by attaching equipment to all the local buses and cabs. Each vehicle becomes not only a part of the Wi-Fi network, but also a data collector. With a suite of sensors on each vehicle a wide variety of real-time data can be collected and then distributed to the cloud. Accelerometers can be used to detect potholes on the roads, while temperature and air quality sensors can track weather and pollution. The local benefits are clear, and the global potential is just as exciting.
Engineers are always on a quest for new knowledge. They want to see a direct connection between ideas and products, and see how it's all applied into a working solution. To help in that effort, Mouser has created additional resources to aid engineers in the creation of other solutions to make cities of the future better for all.
Visit our Newest Products page to gain access to all the latest product releases to enhance your designs. The Application and Technology page hosts a wide variety of videos, articles and featured products to inspire your creations. The Mouser Blog is chock full of technology commentaries, design ideas, and detailed project walk-throughs.
Stay tuned for our next video, where we join Grant again in Tokyo, Japan to look at an innovative way to bring farming right into the heart of the world's most populous city.