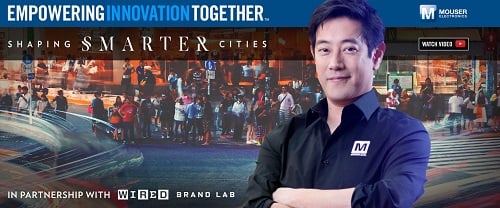 A new video series with Grant Imahara will look at making cities more intelligent. Source: Mouser Mouser Electronics Inc. is once again teaming up with celebrity engineer Grant Imahara this time for a new project involving smart cities.
The Shaping Smarter Cities project will be a series of five videos that showcase engineers and companies from around the world that are working to make cities more intelligent through smart technologies. Some of these companies involved in the project include Analog Devices, Intel, Microchip and Molex.
The first video involves tackling the challenges that are faced today by growing cities and how to make them become smart.
"It's always exciting to be at the forefront of this type of critical discussion on what the cities of tomorrow will be like," said Imahara. "Engineers, by nature, are problem solvers, so I am excited to see what these engineers around the globe are doing to shape the smart cities of the future."
The initial video takes place in San Francisco and future videos will take place in Portugal, Japan and Southern California looking at regional challenges and some of the new technologies that are being developed to address them. Mouser will investigate how buses and city vehicles with connected access points and sensor that are forming a mesh network that provides free Wi-Fi and massive amounts of data to help a city run more efficiently.
Future videos will look how indoor farming could be the future of agriculture in dense cities and how augmented reality will help in the future of construction.