The Emotron FlowDrive is an AC Drive that allows for automatic control of lift stations and pumping stations in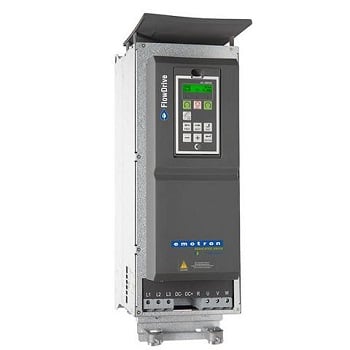 Emotron NEMA 1 200 HP AC Drive for wastewater management. Image credit: EmotronDirectthe water and wastewater sectors.
Features include fully automatic tank and reservoir level control, Best Efficiency Point (BEP) calculation for optimal energy saving operation and increased efficiency by using built-in cleaning functions. The system offers optimized energy consumption, minimal maintenance requirements and real-time control.
The FlowDrive is available in either a robust NEMA 12/IP54 metal construction or NEMA 1/IP20 construction. A category C3 EMC-filter built into each drive, along with coated boards, are standard.
EmotronDirect also offers the FlowDrive for 230V or 460V, and 0.5-200HP applications. An array of communication options, including Devicenet, Profibus and EtherCAT, is also available.
The company has also recently added LSIS Susol Molded Case Circuit Breakers (MCCBs) to their product offering for providing optimal protection of motors and control devices. EmotronDirect features MCCBs for 15A-1200A, 25kA-100kA, 2 and 3-Pole units and a wide range of protection classes.