Invertek Drives has launched new high-powered variable frequency drives (VFDs) in both the Optidrive P2 and Optidrive Eco ranges with an IP55/NEMA 12 enclosure for direct mounting and IP20 for control cabinet mounting.
These VFDs are capable of accurately controlling electric motors rated up to 480 A with a power rating up to 250 kW/400 hp. They replace the existing Size 8, which was only available for control cabinet mounting with IP20 protection. The new range also adds DNV marine certification, in addition to a built-in electromagnetic compatibility (EMC) filter to meet Category C3 with a factory fit option to upgrade to a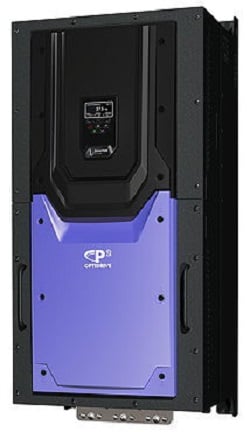 IP20 version of the new high-power VFD, suitable for mounting in control cabinets. Source: Invertek Driveshigh-performance EMC filter that meets Category C2. They also come with high-definition thin-film-transistor displays as standard.
The IP20 and IP55/NEMA 12 both have an ambient operating temperature up to 50˚ C and conform to UL, cUL, EAC and RCM in addition to DNV.
The Optidrive P2 is designed for high-performance applications including mixers, extruders, conveyors, cranes and hoists. It can provide up to 200% torque from zero speed, ensuring reliable starting and accurate speed control under all load conditions. The Optidrive Eco is now commonplace in controlling fans, pumps and compressors and is widely used in HVAC-R and the water industry around the world.
In each application the Optidrive's precise motor control allows for greater energy efficiencies and associated cost savings, as well as resulting in less motor and pump wear and tear and downtime.