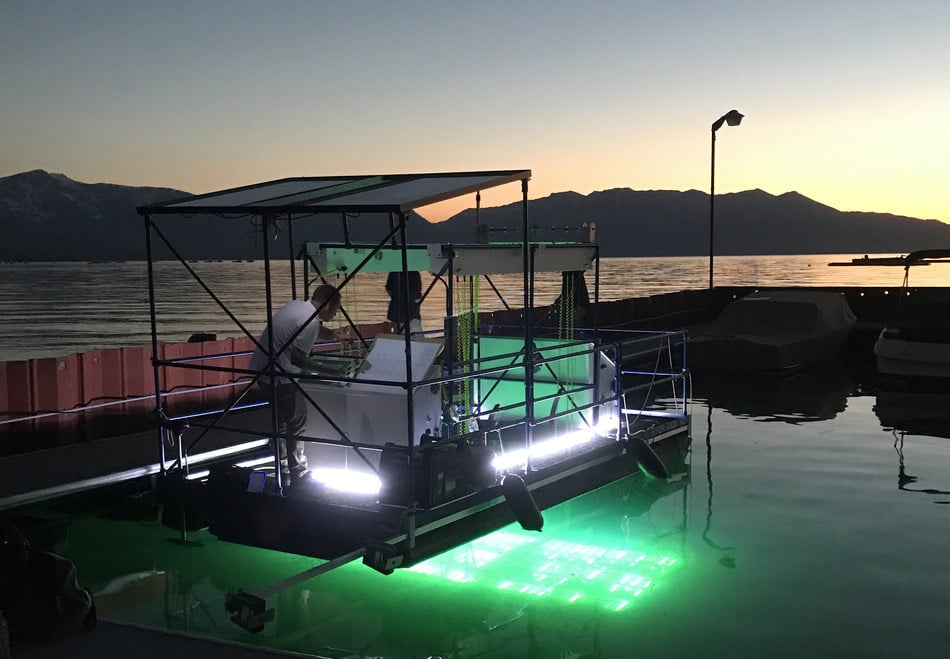 The UV light boat uses targeted UVC light to eradicate aquatic invasive weeds. After the first week of treatment, the weeds are gone. Image credit: Tahoe FundThe Tahoe Fund has announced the start of a pilot project to test the effectiveness of UV light to fight invasive aquatic weeds on Lake Tahoe. The UV light boat was deployed in South Lake Tahoe, CA, and is analyzing the effects of deep penetrating UV light on invasive weeds in the Lakeside Marina and open water through 2018. Half of the weeds in the marina have been destroyed within the first week of this high-tech attack deployment.
Research shows that ultraviolet-C (UVC) light could be an effective control method to get rid of aquatic invasive plants that are plaguing Lake Tahoe. If this method is proven successful, this light can be deployed in infested areas of Lake Tahoe and other clear water lakes.
The early funding was obtained through the Environmental Venture Trust, where the team acquired $260,000 in public funds to start the project. This could be a new environmentally-friendly form of environment control if it is effective. The early stages of this project are proving successful for the new high-tech tool.
The team hopes that this new project on Lake Tahoe will further prove the long-term effectiveness of the technique. To learn more about this project and others like it, visit the Tahoe Fund page here.