Two of the world's top automakers, BMW and Volkswagen, are teaming up with one of the world's largest electric vehicle (EV) charging station makers, ChargePoint, to develop a new corridor of fast-charging stations across the United States.
The companies plan to install 95 new DC fast-charging stations as part of the Express Charging Corridors Initiative that will stretch along the most heavily trafficked corridors on the east and west coasts of the country. The automakers say the corridors are designed to meet the growing demand for EV fast chargers and to act as a way to improve adoption of EVs in the U.S.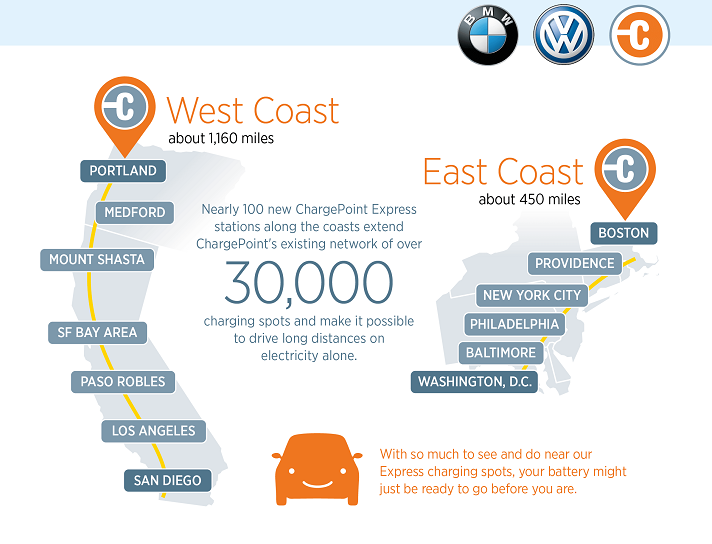 Nearly 100 new charging stations will be set up in order to relieve range anxiety and make driving longer distances easier. Source: ChargePoint On the east coast, the DC fast chargers will be along the most heavily populated regions, primarily along Interstate 95, enabling a vehicle to travel from Boston through New York City and Philadelphia, and to Washington D.C. On the west coast, the charging stations will be placed primarily along Interstate 5 and Highway 101, connecting Portland, the San Francisco Bay area, Los Angeles and San Diego. Other charging stations will be placed in other heavily traveled areas, including Cape Cod, the Hamptons, the Jersey Shore, Lake Tahoe, Napa Valley and Sonoma.
The chargers will be placed about 50 miles apart and in areas where access to restaurants, shopping centers, rest areas and more are located. The goal here is to eliminate what many EV and potential EV owners call "range anxiety," or fear of driving to a location and having no way to charge their vehicle. The expansion of a line of charging stations will also help these carmakers combat Tesla Motors' own network of stations where they have expanded to similar areas of the country and beyond.

With so many new charging installations in place, long-distance travel will be easier and the fear of being stranded will be less likely. Drivers can locate stations via the ChargePoint mobile application or website, or by using in-vehicle connectivity from both carmakers.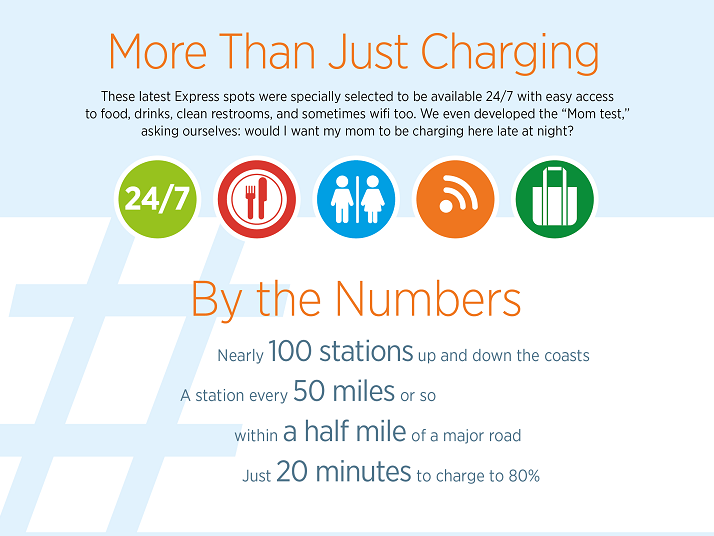 The new charging stations will be placed in locations where other services are available. Source: ChargePoint Each location will offer either a 50 kW or 24 kW DC fast-charging station with the SAE Combo connectors used in both BMW and Volkswagen EVs. Many locations will also offer CHAdeMO connectors for vehicles with this charging port.

"The Express Charging Corridors extend the power of the existing ChargePoint network to simplify long-distance travel for EV drivers and enable more people to make an EV their primary vehicle," says Pasquale Romano, CEO of ChargePoint.
The carmakers hope the corridors will allow for the barrier to purchasing an EV will be lessened and lead to greater adoption of EVs from consumers.
To contact the author of this article, email engineering360editors@ihs.com