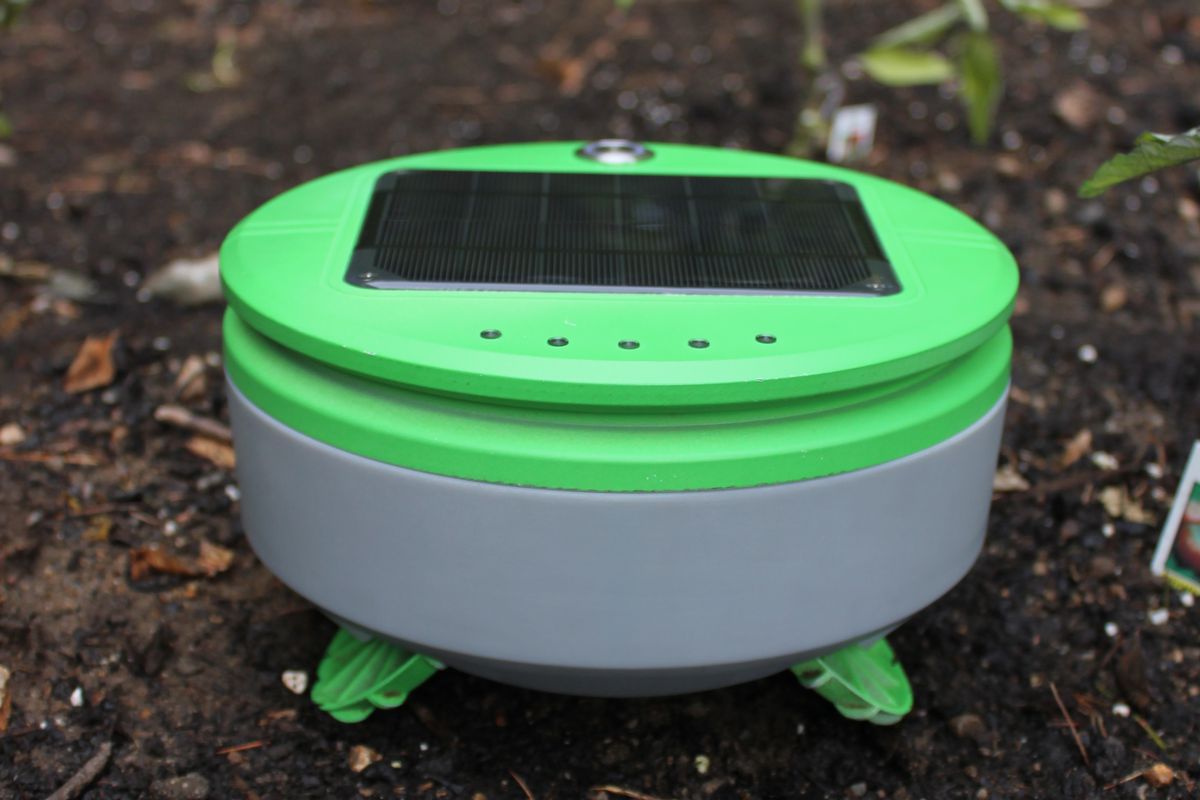 Solar panel operated weed whacker robot. Image credit: Franklin Robotics
Tertill, developed by Franklin Robotics and Joe Jones the inventor of the Roomba, the solar-powered and weatherproof robot has made its debut on Kickstarter. Tertill allows gardeners to enjoy weed-free vegetable and flower gardens. Gardeners no longer have to worry about weeds and can enjoy their garden without having to spend hours pulling them.
Tertill is solar-powered, eliminating the need for charging. It is also chemical free, so gardens stay organic. The automatic till is waterproof, so users don't have to bring it indoors when it rains. Tertill connects to the user's smartphone via Bluetooth so users can control Tertill through their smartphone.
Tertill has design elements and a variety of sensors to patrol gardens daily. It can avoid growing plants and other obstacles while it is looking for weeds to eliminate. There is a solar cell on the top of the machine, which is what allows the machine to work. The bottom of the till has a weed whacker and weed sensor. The sensor differentiates weeds from plants. Weeds are short, so the Tertill's sensor avoids plants that are tall enough to touch the shell but turns on the weed whacker when it detects plants short enough to pass under the shell. To protect short or young plants that may be small enough to fit under the shell, gardeners can use plant collars (which come with Tertill) to surround the plant and deter the robot.
Tertill is like a mini weed whacker. Underneath the shell, there is a spinning string trimmer that cuts the weeds close to the ground. By whacking the weeds daily, Tertill never lets a weed develop leaves that are required to replenish energy. Eventually, the weed gives up and dies completely.
The solar cell converts light into electricity and stores the energy in a battery. Because of the solar cell, there is no need to charge the battery. When it is cloudy, Tertill patrols less often to store energy. It is more aggressive when direct sunlight is available.
Tertill uses four-wheel drive, which helps the robot navigate through soft soil, sand and mulch as well as climbing slopes. The robot's wheels are diagonal, which makes it more stable on slopes and getting past tough terrain. It relies on sensors and programming to keep out of bad areas. The sensors are similar to those found in many smartphones, making it easy to detect things like a garden fence or big plants. The same sensor is used to detect steep slopes that Tertill might get stuck on or fall off of, avoiding damage.
In order to keep Tertill inside of a garden, there needs to be a short barrier around the garden. The barrier could be a fence or an edging that is two inches high or taller, or a wooden barrier on a raised bed — a strategy similar to the one used with Roomba.
There are many advantages to using a Tertill. There are no herbicides involved, which keeps gardens safe for children and pets, as well as keeping the garden organic. Tertill also guarantees that gardeners won't forget to de-weed their garden. Pulling weeds can be one of the most time-consuming parts of gardening, and it requires strict diligence. Often, gardeners don't have the time to spend on pulling weeds from their garden, which can cause a weed infestation. If weeds have infested a garden, they are taking valuable sunlight, water and fertilizer that plants need to grow big and strong. Keeping weeds out guarantees that plants are getting all the nutrients they need to grow. Tertill is also good for older gardeners who can't spend as much time with their garden as they want. Pulling weeds can be too difficult for older people to do. Tertill does it for them, allowing them to have a successful garden without having to worry about the labor involved.
Tertill is 8.25 x 8.25 x 4.75 inches and weighs 2.5 lbs. It has a Li-Ion rechargeable battery with a solar panel for charging. It has four-wheel drive and a nylon string weed whacker. It also has a micro USB port for backup charging. It is currently on Kickstarter already raising $244,412 with nine days of the campaign remaining, far exceeding its original goal of $120,000.