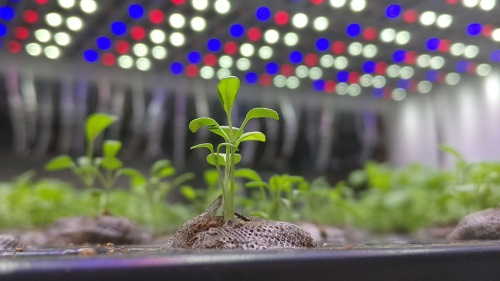 Using a new recipe with LED lighting, arugula was grown to have seven times more vitamin C than grown in other methods. Image credit: Philips Lighting
Research from Philips Lighting has yielded a discovery involving light emitting diode (LED) lighting to produce vitamin C-rich arugula with seven times higher vitamin C content than the published USDA value.
Philips worked with Dutch Wageningen University and Maastricht University on the new growth recipe in a vertical farming environment with no daylight. The trial proves that it is possible to add functional ingredients to a food like arugula in a natural way by growing it differently.
The light recipes using LED technologies can be applied to meet the growing demand for functional foods from health–conscious consumers, Philips says.
Arugula grown under LED lighting showed a very low nitrate level while having a high yield. Lower nitrate levels also have higher sugar levels and a milder taste. The leaves under LED lighting scored between five and eight on the Brix index, which correlates with a higher perception of sweetness in sensory tastes.
The trial was conducted at the Philips GrowWise Center in Eindhoven, Netherlands—one of the largest vertical farming research facilities. The arugula crop was tested in four different lighting situations with three different LED lighting combinations and one artificial light source that mimicked the sun. The effects of high blue and high far red wavelengths were also studied to determine their impact on shelf life and nutrient content.