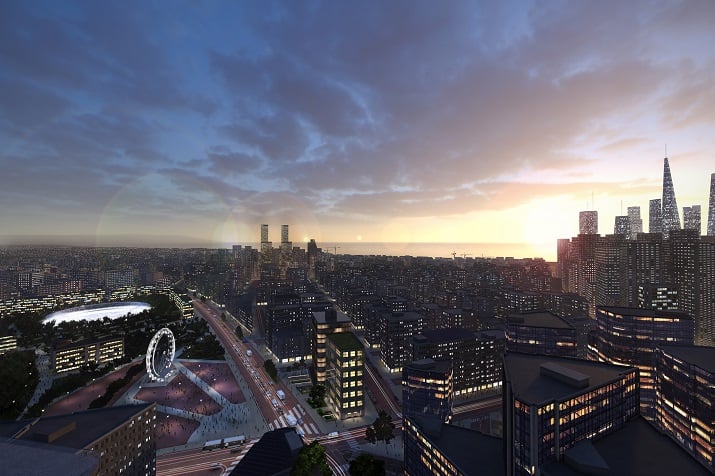 Philips says by 2030 there will be 70 billion light sources in the world, and these lights can be used to help transform a city into a smart city. Source: Philips Lighting By the year 2030, cities will look radically different from today. At least that is what Philips Lighting believes, as it gave a preview of what smart cities could look like and how connected lighting technology will play a key role at this week's Smart Cities Expo World Congress in Barcelona.
According to the United Nations, 60% of the world's population will live in cities by the year 2030. As a result, the need for the Internet of Things (IoT) and smart light-emitting diode (LED) lighting will be essential to enhance quality of life as well as transform services and sustainability projects in order to meet this expansion.
Philips forecasts that by 2030, there will be close to 70 billion light points installed everywhere, from where people work and live, to where they travel, to where they commute or get entertainment. The need for more efficient lighting will be a necessity because of the amount of new lighting that will be required as well as to enhance public safety in the urban landscape.
Philips says lighting, specifically connected lighting, has huge potential to be part of a city-wide network capable of acquiring data and enabling information and services to the millions that will be living in smart cities of the future.
"The needs and aspirations of city dwellers have changed. They access information and navigate spaces in ways unimaginable 30 years ago, and the rapid pace of change will see increasing demands on city governments," says Kees van der Klauw, senior vice president of Philips Lighting Research. "Technology has a huge role to play in making cities more livable and delivering new services to its inhabitants."

LED lights in a building could help people sleep better while providing energy efficiency to reduce the strain on the power grid. Source: Philips Lighting
Data in the Streets
In this scenario of a smart city in 2030, Philips envisions four areas where connected LED lighting could provide this role.
First is in connected street lighting, which could be used to stream data between millions of devices to improve how city services use lights, traffic, air quality, public safety, and parking and location-based services. Lighting could also be used to connect with autonomous vehicles to navigate roads using the same communication sensors in street lights that scan the road and provide information.

As part of its vision for a smart city, urban farms using LED lights would be able to provide food year-round for a growing number of citizens. Source: Philips Lighting As a first step toward making this a reality in today's cities, Philips is in the process of installing what it claims is the world's largest connected street lighting system in Jakarta, Indonesia, with 90,000 lights being upgraded to LEDs. The project is slated to be completed in the next seven months. When completed, the lights will be able to connect and send performance data through existing cellular networks to the city's light office to monitor not just the lighting infrastructure but also match illumination levels with the amount of traffic in different areas. This type of situational dimming will result in additional cost savings for the city.
Work Life and City Farming
Two other areas where LED lighting could improve a smart city is in the workplace and in horticulture. Changing work lighting to LED lights that have the ability to mimic natural daylight has shown to help workers feel more comfortable and be more efficient while on the job. In public spaces, Philips envisions using drones to help navigate and deliver items throughout the city as well as provide light where there is none.
In a city, there is little space or not enough water to grow plants and vegetables sustainably. Light-emitting diode lighting in horticulture farms has been proven to improve the yield and taste of plants while at the same time reduce the distance between a farm and a city center. Philips is already collaborating with farms in the U.K. and in Japan to develop ways to use LED lights to grow crops year-round while being able to grow more produce to feed more people.
Finally, the fourth way lighting will be used in a future smart city will be how lighting works in the home, how it connects with people outside of your house, and how it dims for television watching or music. Philips and Xiaomi have already begun this project by combining a smart home system with its lighting for residents in China.