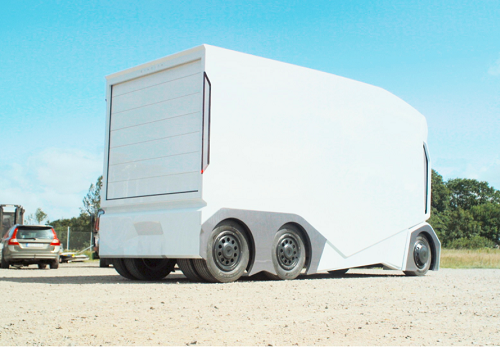 The prototype T-Pod electric truck. (Source: Einride)The race to find the next-generation of delivery vehicles is in full effect. Will it be a fleet of drones managed by a central management system or a new type of truck that features future technology to allow for better fleet management and better emissions?
Swedish startup Einride is betting on the latter as it has officially launched its prototype truck that doesn't have space for a human driver but instead is autonomous and remotely controlled.
Einride is poised to roll out the T-Pod, an electric truck and infrastructure, including recharging stations, to challenge the way deliveries are done.
The goal is to transition away from heavy, noisy and emission-filled delivery trucks with an electric truck that is emission-free and has reduced noise. Einride says the fleet of T-Pods will be able to deliver 2,000,000 pallets of goods per year.
"The big companies behind long haul trucks keep building bigger trucks to increase efficiency, which ultimately means even more emissions," says Filip Lilja, COO of Einride, in a statement. "We are changing that by creating a secure solution that is, not only cost effective, but dramatically minimizes the negative environmental impact of the transportation industry."
Einride is currently testing the T-Pod in Sweden with plans to have an active fleet of 200 T-Pods by 2020.
The trucks feature a cargo capacity of 15 standard pallets with a weight of 20 tons. It can travel about 125 miles and has a 200 kilowatt-hour energy battery capacity.