A 20 kW wireless charging system was first successfully demonstrated by U.S. Oak Ridge National Laboratory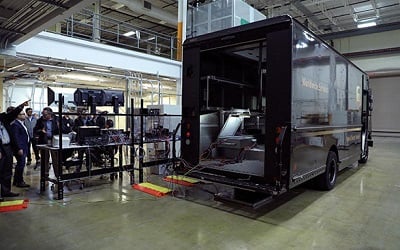 Researchers demonstrated a 20 kW bi-directional wireless charging system on a medium-class hybrid electric delivery truck. Source: Brittany Cramer/ORNL(ORNL) researchers on a light-duty passenger vehicle in 2016. More recently, the technology was used to charge a UPS medium-duty, plug-in hybrid electric delivery truck.
The grid-connected bi-directional wireless charging system transferred power from a charging pad over an 11 in gap using two electromagnetic coupling coils at more than 92% efficiency. Power drawn from the grid is converted to DC voltage, after which a high-frequency inverter generates AC to produce a magnetic field that sends power over the air gap. A secondary coil converts the power supply back to DC to charge the truck's 60 kWh battery packs.
The bi-directional system could enable truck batteries to store energy from solar panels and other on-site renewable energy systems. Scaling up the technology to a fleet of 50 trucks could also expand megawatt-scale energy storage options for operators.
Conventional wired charging typically takes between five and six hours using the existing onboard charging system. In its current iteration, the wireless system would require three hours to charge the truck's battery packs. The technology previously demonstrated for light-duty applications has since been scaled up to 120 kW, advancing the goal of wirelessly charging a typical electric vehicle in about the same time as a gasoline station fill-up.