Intersil has announced the launch of the TW8844 LCD video processor that interfaces with the latest generation of automotive SoCs. The TW8844 is the first high-definition (HD) 1080p LCD video processor with an analog video decoder, two scalers and MIPI-CS12 SoC interface. It builds on Intersil's automotive video leadership in infotainment and display systems. The TW8844 has the reliability that car makers need to ensure that rearview camera systems are compliant with the U.S. Federal Motor Vehicle Safety Standard (FMVSS-111) in order to prevent injury or death by backover accidents.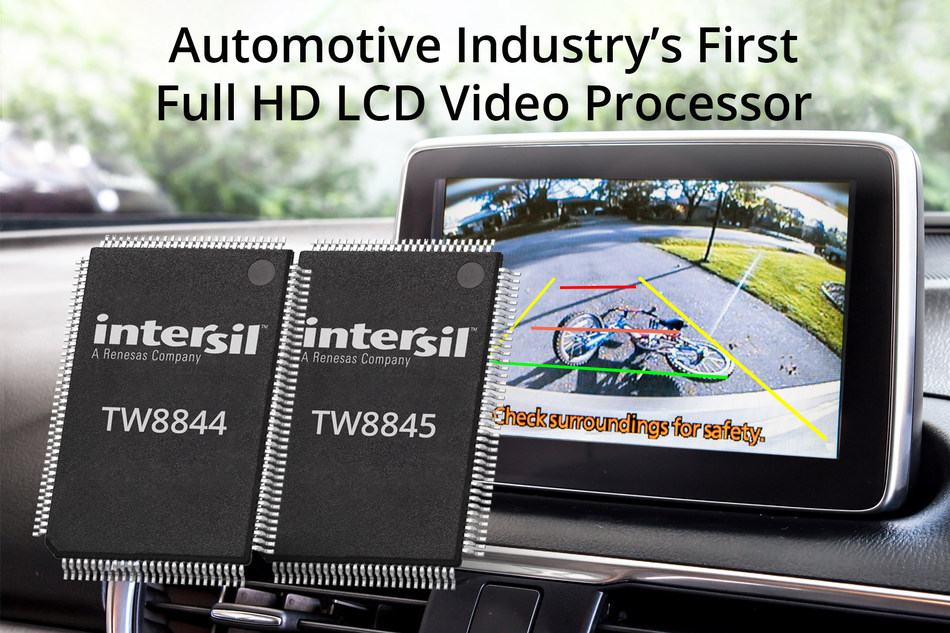 Intersil's highly integrated TW8844 instantly displays rearview camera live video. (Source: Intersil)
The TW8844 allows for the migration from analog to digital camera systems. It also supports many video interfaces and LCD panel resolutions up to HD1920 x 1080. The TW8844 LCD video processor is good for center stack/head units, as well as full display rearview mirrors, instrument cluster displays and headrest rear-seat entertainment systems.
Rearview camera systems are becoming standard in all cars worldwide. The U.S. National Highway Traffic Safety Administration mandated in March 2014 as part of the Kids Transportation Safety Act that cars must implement "rear visibility technology" as standard equipment for all vehicles less than 10,000 pounds. The FMVSS-111 regulation states the area behind a vehicle must be visible to the driver when the car is in reverse, minimizing blind spots. The FMVSS-111 law requires that starting in 2018, all new vehicles must have a rearview backup camera and this camera must display within two seconds after the car is placed into reverse.
The TW8844 video processor with MIPI-CS12 output and TW8845 video processor with BT.656 output exceed these requirements. The video processors display live video with graphics overlay less than 0.5 seconds after the car has been started. The TW884x provides the rear-camera architecture that overcomes the fast boot reliability issues that are inherent with more complex center-stack systems. Today's head units suffer from software freezes and hang-ups that display a frozen image or even prevent the rear camera from displaying. SoCs are running increasingly complex operating systems, which is making these freezes and hang-ups much more common. The TW884x solves this by monitoring the SoC and camera output to determine if they are frozen or corrupted. If the TW884x detects a problem, it will bypass the SoC and displays the rearview camera video instantly.
The TW8844 video processor with MIPI-CS12 output is available now in a 14mm x 20mm, 156-lead LQFP package. It is priced at $10 in quantities of 1,000. The TW8845 video processor with BT.656 output is available in the same package and priced at $9.50 in quantities of 1,000.