How Laser Engraving is Customizing the Beverage Industry
07 July 2017
Sponsored content
High demand for personalized items and the ability to further brand loyalty is driving growth in the laser engraving market.
As one of the best-selling brands of bourbon in the world, Jim Beam's products are popular amongst a variety of individuals – from those who enjoy the liquor, to those looking to gather paraphernalia to add to their collections, to those just want to give a unique gift to someone.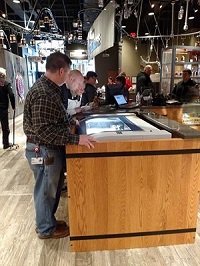 Figure 1: At the Jim Beam Urban Stillhouse in Kentucky, Epilog Laser machines are used to customize bottles and other products for unique gifts and special occasions. (Source: Casey Jordan of RS Digital & Laser)With high demand for customization of its bottles, glassware, barrel staves and barrel heads, the Jim Beam Urban Stillhouse turned to laser engraving to give these items a special signature look.
Jim Beam Urban Stillhouse uses three Epilog Laser machines — two 30 W laser engravers and one 75 W engraver — to customize products for birthdays, marathons, Father's Day, retirement parties, corporate events and much more. Customization has become a popular business for the store located in Louisville, Ky. – so much so that it's laser-engraving 60 bottles a day on average. When a marathon or other special event is occurring in Louisville, that number can jump to 700 bottles on any given weekend. Plus they are engraving at least one barrel head a day and about five to six barrel staves.
"Laser engraving gives us best-in-class performance," says Grey Davis, manager of the Jim Beam Urban Stillhouse. "It gives us a connection to our customers. Laser engraving allows us to team up with companies to provide a unique keepsake for whoever they are giving it to. It not only supports our product, but also lets them know they are giving something that is unique."
The Jim Beam Urban Stillhouse has expanded its use for laser engraving to cutting out Christmas tree ornaments. These are bottle ornaments that can be hung on a tree. They also make other items like refrigerator magnets and barrel bone placeholders.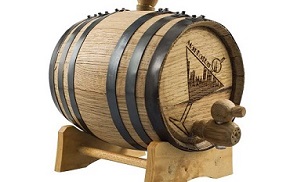 Figure 2: Barrels, barrel tops and barrel staves are all popular customization items for laser engraving. (Source: Epilog Laser)Jim Beam is just one of numerous beverage suppliers that are turning to laser engraving as a way to customize products, expand brand loyalty, and provide an easy way to make ordinary beverage accessories and in-house products unique.
Growth of laser engraving in the beverage industry is the result of these companies providing customers and businesses with value-added capability that goes beyond a traditional bottle or decanter. Instead a customized product is developed that gives a more personal touch while at the same time expanding brand devotion and opening new sources of revenue.
Laser engraving allows companies in the beverage industry — whether it is a winery, a craft brewery, microbrewery or distillery — to customize any in-house product or create awareness of a new or different promotion. While perfect for the alcoholic beverage industry, it is not limited to this and is being used across multiple brands for products such as special soda promotions, coffee mugs and limited edition water bottles.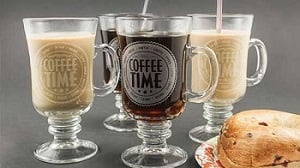 Figure 3: Laser engraving is not just for the alcoholic beverage industry, but also for water bottles, coffee mugs, sodas and more. (Source: Epilog Laser)
The cool thing about having an in-house laser engraver, such as those offered by Epilog Laser, is that you don't rely on a third party to do the work that could result in long lead times and, obviously, paying someone to do the work. Customized laser engraving is a business all to itself that saves on time, money and resources that would otherwise be spent sending products to a third party and then waiting to receive them back.
Laser engraving is done directly on the glass itself allowing custom signatures, names, logos or objects to be cut into beer bottles, wine bottles, shot glasses, pint glasses, tumblers, stemware and growlers directly and easily. All it takes is a special accessory, such as the rotary attachment for Epilog Laser machines, which quickly adjusts to nearly any size and is very easy to set up. The product sits on the rotary rim-drive wheels and turns as it is engraved.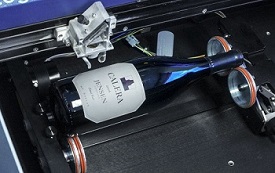 Figure 4: The rotary attachment allows for round glass products and turns the item as it engraves. (Source: Epilog Laser)
As laser engravers work on a variety of materials including wood, cork, glass, fabric, acrylic and much more, accessories can be customized as well, such as special tap handles, coasters, wine corks, bottle openers and, yes, even those aforementioned Christmas tree ornaments.
This allows beverage companies to create unique items for giveaways, special events, and limited edition runs of beer or wine, as well as opens the door for a variety of new business ventures such as gifts, custom orders, parties, giveaways and more.
Getting up and running with a laser engraver is simple with a variety of systems, such as Epilog's, that range from small machines that are 16 x 12 inches all the way up to 40 x 28 inches. The systems also come with a variety of wattage configurations and software that gives instant access to most common and popular jobs for the beverage industry. This software allows beverage businesses to produce branded items quickly and easily.
For the beverage industry, laser engraving has moved from a niche market to a revenue-generating engine where companies no longer need a third-party to engrave custom products that promote branding, collaboration and a greater connection to customers.
So what are you waiting for? Get engraving!
Find Free Electronics Datasheets