Machinery
Laser engravers add value for brewing and beer lovers
14 July 2020
Picking out gifts for beer lovers becomes even easier with the help of a laser engraver. The technology is an easy way to make personalized beer bottles, coasters, glasses and mugs for any type of occasion. And as local, low-volume breweries and home brewing become more popular, laser engravers can create branded signs, merchandise and glassware for even the most modest setups.
A great example is a beer tap handle. It might be difficult to keep track of beer pours with plain or unlabeled handles. And handwritten notes tacked to a handle lack the polish needed to represent a fine-crafted brew.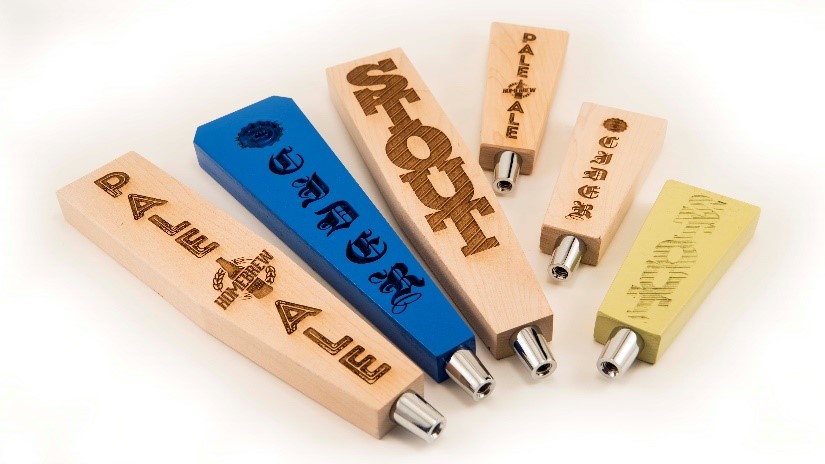 Figure 1: Laser engraved beer tap handles. Source: Epilog Laser
Home brewers will appreciate the ability to quickly create new handles for their latest experiment. Craft breweries will be able to fabricate new, unique handles for the bar. And drinkers will admire the fine woodwork as bartenders masterfully pour their next brew. The laser engraver adds value for hobbyists, professionals and consumers alike.
There are many other ways that breweries can incorporate lasers. They can create custom and unique signs for their businesses that provide crisp, sharp and consistent lines that other engraving methods cannot match. This allows even the smallest details to be crystal clear, which is important when it comes to branding. And as new beers are released, new tap handles, glasses and merchandise just need a new design uploaded to the laser software and the brewer is off and running. Breweries will be able to sell these directly to customers for another revenue source or supply them to bars that offer their products to help with marketing and brand exposure.
Laser engravers are ideal for glass and wood, but can also be used on other popular beverage materials, like stainless steel. For bare metals like stainless steel, the product has to be pre-treated with a laser bonding agent, like CerMark or Enduramark, to create a permanent laser mark on the steel.
There is also great opportunity for makers and DIYers to use a laser engraver to personalize their products. People love customized gifts — and beer — so adding them together creates a winning combination. Names, dates or even jokes look great on beer-themed gifts when engraved by laser.
There are so many ways that beer lovers, bars, distilleries and breweries can use lasers to customize and engrave adult-beverage-related products. To learn more about the vast potential of laser engraving, visit the Epilog website.
Find Free Electronics Datasheets