Google is on track to bring more than 100 artificial intelligence (AI)-powered improvements to Google Maps in 2021. Part of those improvements have been rolled out now with the addition of Live View, a technology that allows for global localization navigation indoors using augmented reality (AR).
Live View uses AI to scan billions of street view images to understand orientation as well as the precise altitude and placement of objects inside a building. Google said it is using the technology to navigate places indoors such as airports, transit stations and shopping malls.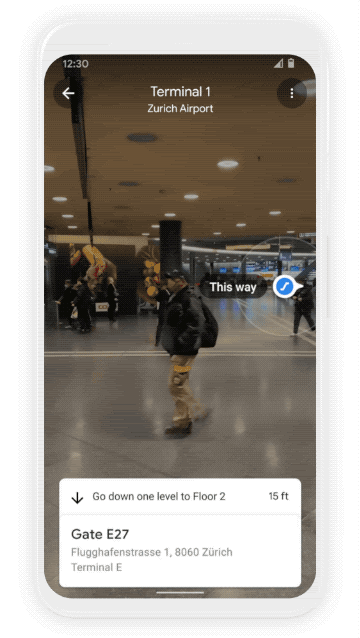 AR can be used to navigate indoor areas such as airports and terminals. Source: GoogleLive View allows people to find the nearest elevator or escalator, an airport gate, platform, baggage claim, check-in counter, ticket office, restroom, ATM and more using arrows and accompanying directions that point people in the right direction through AR.
Additionally, if someone goes to the mall for a specific reason, the app guides the person to their intended destination within the mall. Live View is already active on Android and iOS in several malls in Chicago, Long Island, Los Angeles, Newark, San Francisco, San Jose and Seattle. It will also be rolled out to airports and transit stations in Tokyo, Japan, and Zurich, Switzerland, in the coming months.
Another new feature is the ability through Google Maps to see current and forecasted temperature and weather conditions in an area. An air quality layer also shows how healthy or unhealthy the air is, which could be helpful for those with allergies or who have bad reactions to smoggy areas.
Google Maps will also soon choose the default route with the lowest carbon footprint when it has about the same ETA as the fastest route. Google is working with the U.S. Department of Energy's National Renewable Energy Lab (NREL) to find the optimal routes that consume the lowest amount of fuel based on factors like road incline and traffic congestion.