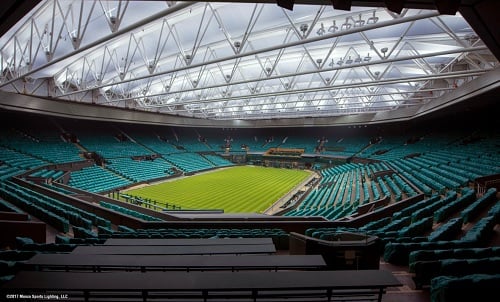 LED lighting will be shown for The Championships 2017 at Wimbledon. Image credit: Musco
While the 2017 Championships at Wimbledon are ongoing, this year for the first time the classic stadium will be using light emitting diode (LED) lighting for players, fans and spectators to better see the action.
The LED system was installed by lighting house Musco Sports Lighting, LLC using its Total Light Control – TLC for LED™ system. Musco says the installation of the lighting took two years of research, planning and testing.
Representatives from Wimbledon visited Arthur Ashe Stadium in New York City (home of the U.S. Open) to see how the LED technology looks and works. That stadium installed Musco lighting about one year ago.
The system was installed on Centre Court's retractable roof and will be used when the roof is closed. Musco touts the technology as virtually eliminating glare from impacting players and spectators and providing a more uniform light. Musco will install its LED technology at the No. 1 Court for the opening of The Championships 2019.
"The expectations don't get any higher than at Wimbledon," says Jeff Rogers, president of Musco. "We installed the previous lighting at Centre Court, and we knew the team there would put in the work and expected the highest level of performance, tailored to the venue's exact needs. Our LED technology has been customized to meet those needs with the highest quality light without creating glare. We're confident that when the lights go on at this year's Championships it will create an amazing atmosphere for players and fans."