The NFL's Rams franchise will be going back to its roots this season after moving locations from St. Louis to Los Angeles. Once again the team will play at the iconic Los Angeles Memorial Coliseum, but this time it will bring light-emitting diode (LED) lighting along with them.
The Coliseum once hosted the 1984 Olympic Games and installed a new lighting system for the opening ceremonies and athletic competitions taking place inside the stadium. It partnered with Musco Lighting to bring the new system to the stadium, and 32 years later, it is partnering again with Musco to bring its SportsCluster Green LED system for the upcoming 2016 NFL season and the USC Trojans college football games.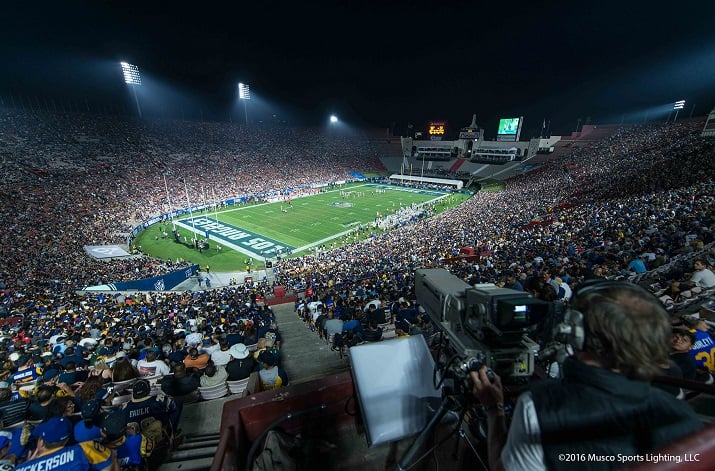 Musco's SportsCluster Green LED system will reduce energy consumption at the Los Angeles Memorial Coliseum and increase vertical light levels by 65. Source: Musco The LED system incorporates structural, electrical and lighting components with custom-designed reflectors and optic controls for each LED to eliminate glare and wasteful spill. This will help in enhancing visibility for players as well as spectators while improving the quality of television broadcasts, Musco says.
With the new lighting system, the Coliseum will realize a reduction in energy consumption to the tune of cutting CO2 emissions by 288 metric tons over 10 years—the equivalent of taking 61 cars off the road for one year. Furthermore the lighting system increases vertical light levels by 65%, cuts operating costs with instant on/off/dimming capabilities, interfaces with DMX controls for light shows and special effects, and eliminates maintenance costs because of the long life of the LEDs.
The Coliseum joins a number of stadiums and ballparks to make the switch to LED lighting, including San Diego's Petco Park, AT&T Stadium in Dallas, Houston's NRG stadium and more.
To contact the author of this article, email engineering360editors@ihs.com