LiDAR has been regarded as the gold standard technology for conducting 3D land surveys. Travel-time measurements for light reflected back from the scanned area provide the distances that make up a resulting high-resolution topography. However, capabilities have been constrained by the obscuring effects imposed by elements of terrain such as foliage or netting.
Researchers from the U.S. Naval Research Laboratory (Washington, D.C.) now offer a remedy with a novel laser system and a new method based on gated digital holography. The foliage-penetrating LiDAR detects 3D images behind an obscuration such as a tree canopy.
"The real key to making our system work is the interference between two laser beams on the sensor. We send one laser beam out to the target and then it returns, and at the exact same time that return [beam] hits the detector, we interfere it locally with another laser beam," said researcher Abbie Watnik. "We need complete coherence between those beams such that they interfere with one another, so we had to have a specially designed laser system to ensure that we would get that coherence when they interfere on the camera."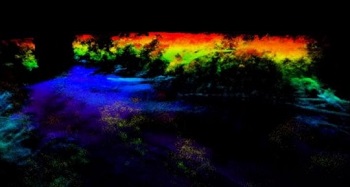 A specially designed laser system and a new methodology based on gated digital holography enable LiDAR to see through obscuring elements like foliage and netting. (Credit: U.S. Naval Research Laboratory)Using a pulsed laser with pulse widths of several nanoseconds and gated measurements with similar time resolution, the holographic system selectively blocks the earliest-to-arrive light reflecting off obscurations. The camera then only measures light coming back from the partially hidden surface below. The time difference between the local reference pulse and the signal pulse that comes back from the target is completely adjustable to accommodate distances from a few feet to several kilometers.
"We have been working with a process called optical phase conjugation for quite some time and it dawned on us that we might be able to use that process to essentially project a laser beam through the openings of the leaves and be able to see through a partial obscuration," said researcher Paul Lebow. "It was something that until maybe the last five years was not viable just because the technology wasn't really there. The stuff we had done about 20 years ago involved using a nonlinear optical material and was a difficult process. Now everything can be done using digital holography and computer generated holograms, which is what we do."
A laboratory-based system has provided substantial evidence of its power and potential real-world value. Using a perforated index card to pose as (lab-safe) foliage, not only was the group able to image what the holed index card would have otherwise hidden, but their modeling was also able to recreate the topology of the would-be "foliage."