A new 3 W isolated DC-DC converter series has been added by CII's Power Group (Tualatin, OR) to its portfolio of low-power DC-DC converters. The PQME3 series, housed in a compact, industry standard 14 pin surface mount package measuring 0.76 x 0.71 x 0.40 in (19.20 x 18.10 x 10.16 mm), provides a low-power solution for a variety of industrial, test and measurement, and telecommunication applications.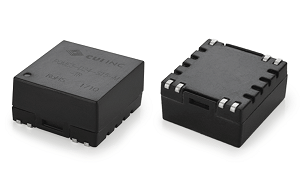 (Source: CUI Inc.)
Ideal for converting and isolating fluctuating DC voltages, the 3 W series features 4:1 input ratio ranges of 9 to 36 VDC and 18 to 75 VDC, single regulated outputs of 3.3, 5, 9, 12, 15 and 24 VDC, remote on/off control, and 1500 VDC input to output isolation. For devices where energy consumption is a concern, the PQME3 series offers efficiency up to 84% and no-load power draw less than 0.1 W. Operating temperatures range from -40 up to +71° C at full load, derating to 60 percent load at +85° C, making the low-power modules suitable for harsh environments.
The 3 W isolated DC-DC converters also meet CISPR22/EN55022 Class B limits for conducted and radiated emissions, while carrying over current and short circuit protections, as well as a minimum MTBF of 1,000,000 hours at +25° C ambient, calculated per MIL-HDBK-217F.