Murata Power Solutions' NXE2 series of 2 Watt surface mounted DC/DC converters offer footprints compatible with similar 1 and 2 Watt devices, and measure just 12.5 x 4.36 x 10.41 mm. They provide more power output in the same space. The converter comes in a halogen-free iLGA inspectable package with an integrated transformer.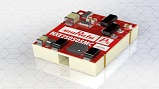 Murata Power Solutions NXE2 series DC/DC converters. Source: Murata Power Solutions
The series comprises four models with nominal input voltages of +5 or +12 VDC and outputs of +5, +12 or +15 VDC. Input to output isolation of 3 kVDC is standard across the range.
The NXE2 series is suited for use in industrial automation, instrumentation, and transportation equipment. It is also intended for use in telecom, wireless and medical designs that require a low power isolated DC voltage. Certification to UL60950 and medical safety is pending.