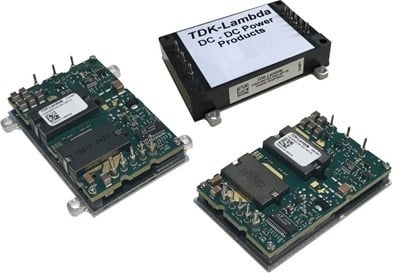 Source: TDK-Lambda Americas Inc.
TDK-Lambda Americas Inc. offers 120 watts of power in a standard quarter brick footprint. The GQA Series DC-DC converters feature either 9–36 VDC or 18–6 VDC input and boast 91.5 percent efficiency with 5–48 VDC nominal outputs.
The robust DC-DC converters offer 1500, 2250 or 3000 VDC isolation and operate at base plate temperatures up to 105° C. They are offered with either open frame or encapsulated construction and either a flanged or non-flanged base plate.
The devices are RoHS compliant and are supplied with a three-year warranty. Key applications include industrial, commercial-off-the-shelf (COTS) and networking and communications.