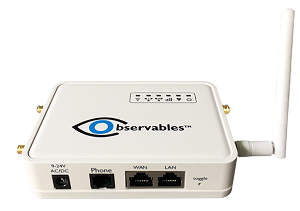 The IOBOT device. Image credit: Observables
Observables Inc. has launched a new connected service platform that connects, manages, monitors and controls new and legacy infrastructure devices on a network.
The IOBOT with AlwaysON platform provides an all-in-one hardware and software solution that serves as a bridge between legacy systems and modern technology for alarm systems, computer networks, access control, smart home, phone and video surveillance into a singular cloud.
IOBOT is a software defined security device (SDSD) that has the functionality of a network router but with configurable internal modules for customization by market application, including phone and intercom, access control, security, network, automation, persistent communications and more. The AlwaysON platform enables dealers to add a software as a service (SaaS) business model through revenue-based subscriptions determined by end-user service and functionality.
Observables will be exhibiting at this week's Sensor Expo conference in San Jose, CA.