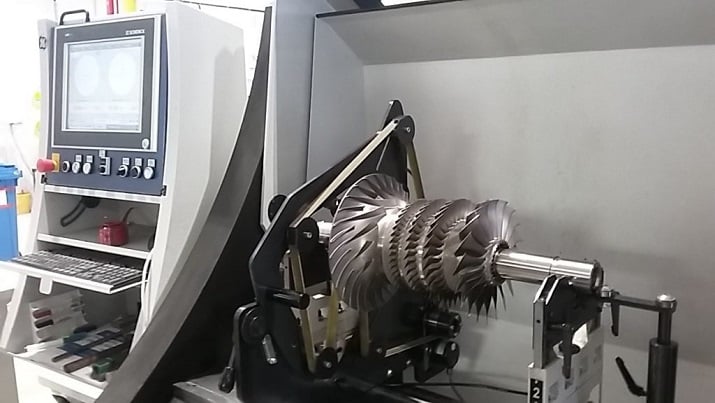 3D-printed compressor parts are readied for a balance test. (Credit: GE Aviation)Turboprops are engines that typically power small commercial shuttles and personal aircraft. GE Aviation has created an entirely new type, the Advanced Turboprop (ATP) – the first commercial aircraft engine in history to be created largely by additive manufacturing such as 3D printing.
While the normal cycle for new engine development can run anywhere from 4-10 years, the use of additive manufacturing helped to make that process take just two years. The designers of the ATP were able to reduce 855 separate parts down to a dozen, using 3D printing to create more than a third of the engine. Less parts means less wear, improving durability – according to the company, the ATP is expected to run 1,000 hours longer between overhauls than its competitors. The engine is also designed to be 5 percent lighter, burn 20 percent less fuel and achieve 10 percent more power.
"With additive manufacturing, we're disrupting the whole production cycle," says Gordie Follin, executive manager of GE Aviation's ATP program.
All of the engine's parts have already been produced; Follin's team is now working on assembly, adding instrumentation and getting ready for testing critical sub-units. The engine will be run in a test cell in Prague later in 2017, and is expected to have its first test flight in late 2018. Full production is planned for 2020. The engine will eventually provide the thrust for the Cessna Denali, a single-engine, 10-person business aircraft.
GE has been aggressively developing its 3D-printing capabilities in recent years, spending $1 billion to mature the technology for its businesses. "We're no longer constrained by traditional design and engineering processes," Follin says. "3D printing is letting us be more creative than we've ever been before."