Lawrence Livermore National Laboratory (LLNL) researchers have developed a new approach to 3-D printing in which semisolid metal is directly extruded from a nozzle.
Most popular metal printing processes involve the use of lasers that fuse together fine metal powder. However, these processes, like selective laser melting (SLM), have limitations as they often end up with gaps or defects caused by a variety of factors.
The process developed by LLNL is engineered to be a shear thinning material that acts like a solid when standing still, but flows like a liquid when a force is applied.
"We're in new territory," says Wen Chen, a materials scientist at LLNL. "We've advanced a new metal additive manufacturing technique that people aren't aware of yet. I think a lot of people will be interested in continuing this work and expanding it into other alloys."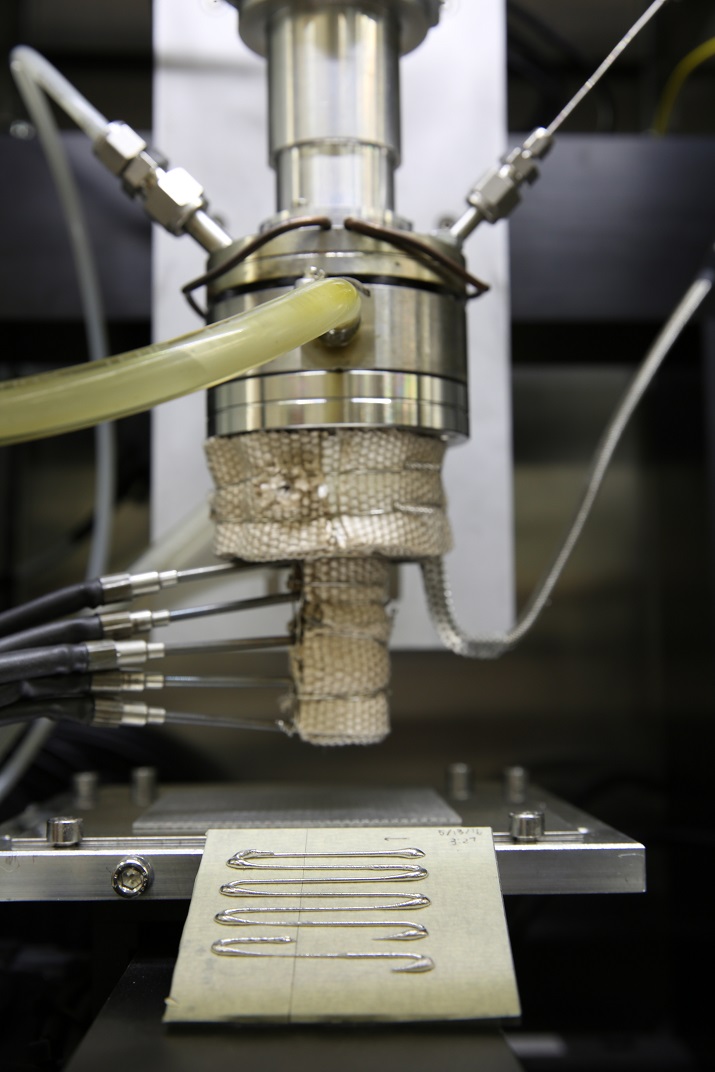 Direct metal writing using an ingot that is heated until it reaches a semi-solid state before it is forced through a nozzle. Source: Lawrence Livermore National Laboratory Instead of metal powder, the direct metal writing technique uses an ingot that is heated until it reaches a semi-solid state. Solid metal particles are surrounded by a liquid metal resulting in a paste-like behavior that's then forced through a nozzle. The process is shear thinning because when it is at rest the solid metal particles clump up and cause the structure to be solid. As the material moves, the solid particles break up and the system acts like the liquid matrix then hardens as it cools.
While the technology is still in its early stages, LLNL says it will work to achieve higher resolution parts with more industry-friendly metals, such as aluminum and titanium. Researchers are working to provide accurate operating conditions for printing with metal directly from a nozzle, and the team is moving onto aluminum alloys — a metal that is more attractive to the aerospace and transportation industries, but will present a challenge because of a higher melting point.
"Being able to print parts out of metal in this way is potentially important," says Luke Thornley, staff scientist at LLNL. "So much of the work that goes into validation and analyzing for defects would be eliminated. We can use less material to make parts, meaning lighter parts, which would be big for aerospace."