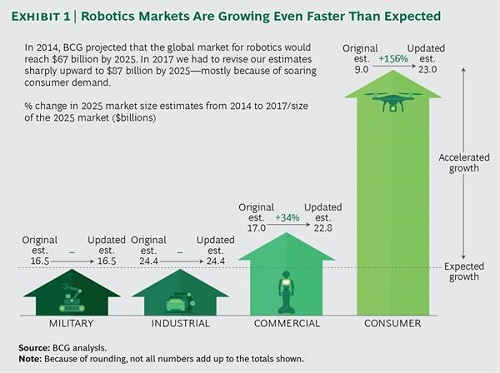 Global robotics market is forecast to reach $87 billion by 2025. Source: BCGThe market for robotics is growing faster than previously expected due to sharp demand from consumers with the forecast expected to reach $87 billion by 2025, according to new research from The Boston Consulting Group (BCG).
This forecast updates BCG's previous forecast which called for the market to reach $67 billion by the same time frame. The research group sees the additional demand of $14 billion coming from the consumer sector.
"Much of the accelerated growth will come from the consumer market because of applications such as self-driving cars and devices for the home," said Vlad Lukic, a BCG partner. "Projected growth in the commercial sector accounts for the rest of the adjustment — a 34 percent increase to 22.8 billion."
BCG cites numerous factors for the global growth in robotics including a surge in private investment, rapidly advancing technology and components usable in a far wider range of industries and applications. In the consumer space, robotics companies are rolling out numerous devices including vacuums, educational bots, home surveillance and security as well as companions and home health aides.
"As people become more accepting of robots in their everyday lives — embracing everything from robot vacuum cleaners to telepresence workers in the office — they will begin to demand more such products," said Alison Sander, head of BCG's Center for Sensing and Mining the Future. "This will attract more investment capital and drive further advances in robotics capabilities."
The challenge will be to figure out how robotics will be used to gain a competitive advantage. This may mean identifying a sweet spot where a hybrid mix of human worker and machine delivers the biggest payback or creating a new business model, BCG says.
BCG's full paper on the global market for robotics can be found on the company's Web site.