A new generation of robotics technology has the potential to improve consumer electronics manufacturing, lessening its dependence on low-cost human labor and possibly setting the stage for a substantial geographical shift in the electronics manufacturing base.
Some of the technical advances are here already, while some are still not quite ready for prime time, industry observers say. But the stage is set for a renaissance in manufacturing automation over the next five to 10 years.
John Dulchinos, newly hired vice president of global automation at Jabil Circuit Inc., has had a bird's eye view of the evolution of robotics. He spent more than 25 years at robotics vendor Adept Technology Inc., working his way up from sales manager in 1987 to CEO of the company in 2007 to 2013. The robots of the 1990s were not capable of competing with the emerging low-cost labor in Southeast Asia, according to Dulchinos.
"So almost overnight, most of the U.S. electronics manufacturing industry shifted to those lower cost regions," Dulchinos said. Today, however, robots have become more intelligent, more flexible and less expensive while labor costs in Asia have risen. "Those lines are getting very, very close now, where robots are making sense in a much broader set of applications," he said.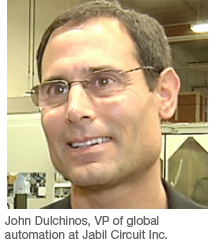 After taking a hit in the recession of 2008, the robotics industry has resumed growth, especially in the electronics sector. The worldwide robotics industry totaled $25.5 billion in 2011, including both industrial and service robots, according to the International Federation of Robotics, an international non-profit group that collects data on the industry. The federation estimates the number of robots increased from 60,000 units in 2009 to 159,000 in 2012.
The Robotic Industries Association (RIA), another trade group focused on North America, reported record sales for North American robotics companies last year. Although the lion's share of sales remains in robotics' traditional stronghold of automotive manufacturing, the electronics/semiconductor sector is a small but growing category, said Bob Doyle, the RIA's director of communications. It makes up only 6 percent of the total, but over the last year it grew by 89 percent in units and 56 percent in sales, he said.
Use of one type of robot in particular, the articulated robot, increased some 20 percent in computer, consumer and communications/electronics markets from 2011 to 2012, according to Nicolas De Keijser, 3C (computer, consumer and communications/electronic) industry segment manager of the robotics business unit at ABB Robotics.
This is one of the most flexible types of robots, De Keijser said, and has started to open up opportunities in the consumer electronics industry.
"Now our typical articulated 6-axis robot can be very accurate, and if you combine it with vision technology, it can see what it's doing," De Keijser said. "That flexibility is quite important because product lifecycles in consumer electronics are very short—typically six months, or one year if the product is very successful. So you need to be able to retool and reprogram."
IHS puts the worldwide market for industrial robotics at $8.7 billion in 2012, and forecasts sales of industrial robots to grow significantly faster than the end markets they serve, according to a report the company published in late 2012.
"With the cost of labor and demand for greater throughput and quality increasing, many manufacturers are seeing the benefits of using robots in their factories," wrote Kiran Patel, analyst with IHS Electronics & Media and the author of the report. Patel estimates 8.4 percent compound annual growth in units for industrial robots, which translates to a market of $10.7 billion (and 267,000 units) by 2016. (See table.) Robotics use in consumer electronics is forecast to experience one of the highest growth rates of any vertical industry.
A confluence of market need and technology advancement
A need for more automation in the electronics market—and consumer electronics in particular—in tandem with improving technical capabilities and lower costs of robots are merging to create a robotics renaissance.
Asian labor costs are rising and supply is shrinking. Wages in China have increased more than 20 percent in the last four years, according to the IHS report. And the Chinese government's five year plan calls for continued hikes in salaries. In addition, the United Nations forecasts that the number of industrial workers aged 25 to 39 is already shrinking, a trend that is expected to accelerate over the next 20 years.
Workers are starting to demand more challenging tasks, and young people are becoming more ambitious in terms of work. "The low-skilled jobs are becoming less popular—people want to move up the social ladder and get better jobs with better pay," said De Keijser, who is based in Shanghai. And as concerns grow over the health, safety and fair treatment of workers in large manufacturing plants, companies are looking to robotics to replace humans in some of the more low-skilled and potentially dangerous jobs.
Some predictions of the pace at which this will happen have been hyperbolic, however. For example, Hon Hai Precision CEO Terry Gou declared in 2011 that he wanted to replace 1 million factory workers in China with 1 million robots by 2014. Press reports and industry observers agree that Hon Hai is nowhere near that goal, estimating that the company has installed fewer than 100,000 robots. (And whether Hon Hai is using "real" robots is another question entirely.)
As consumer electronics products—particular smartphones and tablets—continue to shrink in size and increase in capabilities, manufacturers need greater precision and accuracy in assembling components and the final product. So great, in fact, that it's beginning to exceed the capabilities of the human hand.
In June, Adept Technology announced a $2.6-million deal with CASTEC International Corp., a systems integrator in Taiwan, for SCARA robots to be used to automate sub-assemblies for smartphones. "As smartphone packaging becomes more dense, it is becoming more difficult to assemble by hand," Hai Chang, vice president of Asia and strategic programs at Adept, said through a statement. "CASTEC and its customer needed to find a way to drastically improve the overall yields of a smartphone component and knew a tightly integrated automation solution could deliver."
At the same time, robots have dropped in price. The average selling price of an industrial robot in 2011 was $44,000, according to the IHS report. It predicts that will fall to $39,000 by 2016. But the robot's price is only part of the total cost. The bigger expense is in integrating robots into a particular manufacturing operation. A common complaint of manufacturers is that "for every $1 they spend on a robot it takes them another $9 or $10 to really get it operational," said Elena Messina, group leader of the Manipulation & Mobility Systems Group of the Intelligent Systems Division at the National Institute of Standards and Technology (NIST). "I'm not sure that the implementation costs have come down as much."
One way to deal with that is to buy the robotics integrator. That's what Jabil did in early 2013 when it acquired Chad Industries. Jabil sees a growing need for more automation in its operations, but there is still a wide gap between the robots themselves and a total automated solution in the factory, according to De Keijser. "The integration component is a critical part of the value-add with automation for our customers," he said.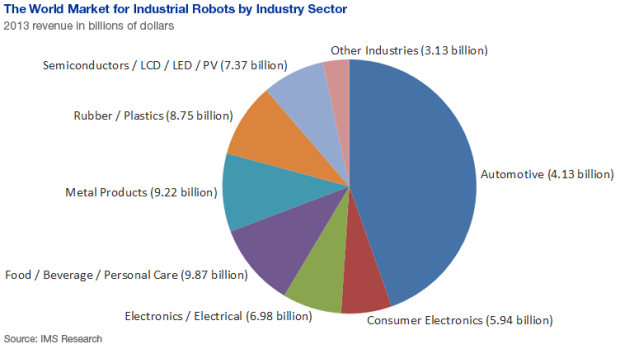 Tech advances from consumer electronics help robotics
Meanwhile, many of the technological advances that have enabled the latest consumer electronics devices have benefited the robot business.
The $25.5-billion robotics industry "is not large enough to drive its own technology curves," said Dulchinos. But smartphones and tablets have driven up the volumes of key components like sensors (such as accelerometers and gyroscopes), imaging (cameras) and interfaces (touch screens), leading to dramatically lower prices. These technologies are being used in robots, lowering costs while increasing capabilities. And that trend will continue in other areas of technology, Dulchinos said. Think about how robots may tap into cloud computing, for example. "One of the powers of robots is they can all be connected to the grid," Dulchinos said. "Being able to leverage and share information across the cloud is going to be really powerful."
For example, the cloud can help robots make the most of machine vision technology. "A robot with machine vision has access to images stored in the cloud," Patel explained. "You can tell a robot to look for certain [types of components], it can access the images in the cloud and thereby pick out the right components."
NIST's Messina, who is managing a new NIST program on robotics systems for smart manufacturing, agrees that robotics is leveraging a lot of tech advances from different areas. Investments by the U.S. military—such as the DARPA challenge in autonomous driving—led to more than just the Google car, she said. "That improved the sensing capabilities, the algorithms, made the technology robust to a degree that other industries could start harvesting these advancements," Messina said.
The NIST program will focus on such advancements on the performance of a single robot, including autonomous mobility, perception and manipulation, as well as how robots may collaborate with other robots or even humans.
Some vendors already offer autonomous industrial robots. Adept Technology's Lynx model, for example, is designed for handling SMIF (standard mechanical interface) pods at 150- and 200-mm wafer fabs, says Glenn Hewson, senior vice president of global marketing at Adept Technology. The robot, which can talk and also uses machine vision, can move pods among different machines or even move to a different building. Unlike earlier mobile robots, which followed a line or magnetic strip on the factory floor, this robot literally sees and learns the lay of the land. "You walk them through the building, very much like a new employee," he said, "and they use a laser to map out where they are."
Sensors can also help in gripping technology and manipulation. Typically, grippers need to be customized to hold particular parts, which makes it expensive and time-consuming when production changes. In fact, a specialized gripper technology was another reason why Jabil acquired Chad, said Dulchinos. The gripper design enables the robot to handle a wider range of parts without having to change the tooling, he added.
Robot manufacturers also have made their machines easier to program. The software is becoming more intuitive, and can be programmed by workers with just basic machine operating skills, according to the IHS report.
Although the electronics industry is starting to broaden its use of robotics, it's still early times. Outside of surface-mount applications, Dulchinos estimates robots have penetrated only 5 percent of the potential applications in the electronics manufacturing industry. Looking out over the next decade, he believes that could increase to anywhere from 20 to 40 percent, which could bring big changes to the EMS industry, he said.
"As we leverage more technology like robots, it will allow us to be much less dependent on geography in terms of where we manufacture," Dulchinos said. Long term, he added, that frees companies to make products closer to their end markets.
Related story: