An augmented reality system under development at Birmingham City University, UK, allows medical practitioners to view and interact with virtual replicas of patients' organs, bones, or body parts. The system could be used to visually demonstrate medical problems, the areas where surgery will be conducted, or the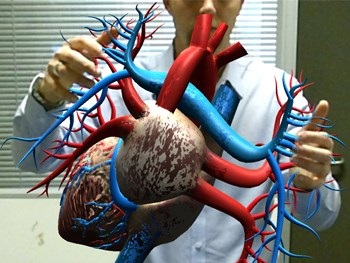 Users interact with virtual models and patient data using freehand movements. (Source: Birmingham City University)damage caused by harmful addictive substances such as tobacco.
Users manipulate, navigate, and demonstrate patient data using hand motions and gestures, enabling practitioners to showcase medical procedures, lifestyle choices, and treatment effects based on customized 3D virtual models and patients' real medical records. Surgeons would also be able to interact with images of patients' bodies to view and manipulate during procedures without the need to remove their scrubs and gloves in sterilized environments.
The system will be upgraded in the near-term to replicate injuries, mobility problems, or illnesses and show changes which could be made through lifestyle choices or medical procedures.