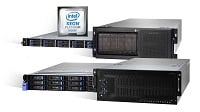 The FT77D-B7109 and FT48B-B7100 servers. Source: TyanTyan has introduced new server platforms based on the upcoming Intel Xeon processor scalable family to accelerate HPC and cloud data analytics workloads.
One computing platform is the FT77D-B7109 4U dual-socket GPU server with dual PCI-E root complex topology supporting up to eight Intel Xeon Phi co-processor modules. This platform could be used in applications such as scientific computing, genetic sequencing, oil and gas discovery, large scale facial recognition and brute force cryptography.
Another computing device, the FT48B-B7100, is a 4U general purpose server with seven PCIe slots and supports up to four Intel Xeon Phi co-processor modules. This works for applications such as industrial automation, video surveillance or large scale video output.
Tyan says the services are optimized for data intensive workloads and virtualization applications to deliver performance, density and scalability.