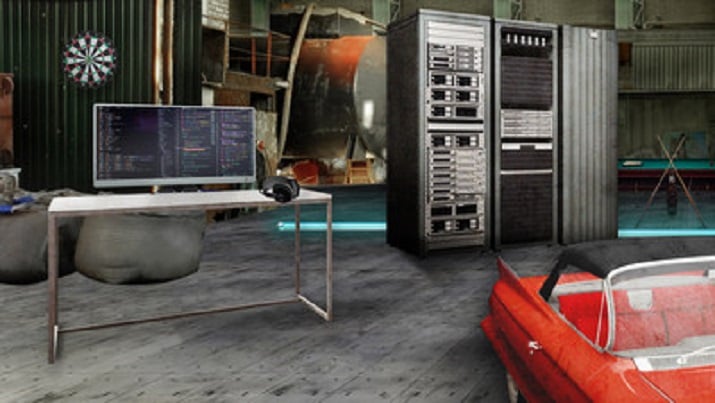 Inside the Gorillaz garage. (Courtesy Jaguar Land Rover)Want to recruit world-class engineers to your company? Give them a code-breaking challenge.
Hoping to attract a diverse range of talent and new thinking, UK-based Jaguar Land Rover is seeking out their next generation of electronics and software engineers through a challenge found in the Gorillaz app. For the uninitiated, Gorillaz is an English virtual band consisting of four animated members, created in 1998 by musician Damon Albarn and artist Jamie Hewlett. In 2016, Jaguar Land Rover named Gorillaz' virtual guitarist, Noodles, as its Formula E Racing and STEM ambassador.
A 360-degree environment that appeared in mid-June on the mixed-reality Gorillaz app is situated in the garage of the band's home. From there, users can explore and take a two-part challenge.
The first part is designed to educate users about electric vehicles, with the task of assembling the company's all-electric, five-seater sports car, the Jaguar I-PACE Concept. The second, more challenging part, uses the Alternate Reality Game format to take users on a series of code-breaking puzzles designed to test their curiosity, persistence, lateral thinking and problem-solving skills.
The company is looking to recruit more than 1,000 electronic and software engineers to its expanding business. While traditional application methods remain open, downloading the app on iTunes or Google Play and cracking the codes will fast-track best performers through the recruitment process.
"As the automotive industry transforms over the next decade, fueled by software innovation, we have to attract the best talent and that requires a radical rethink of how we recruit. Here we've found an engaging way to recruit a diverse talent pool in software systems, cyber systems, app development and graphics performance. It will be the first of its kind," said Alex Heslop, head of electrical engineering for Jaguar Land Rover.
For her part, guitarist Noodles said, "Can you crack the code? Put your skills to the test!! Hey, maybe you might land yourself *the* most BADASS job you can imagine. Dare to win!"