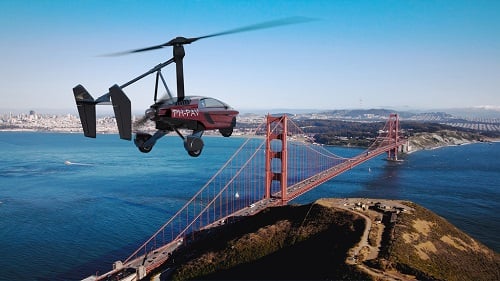 The PAL-V Liberty flying car that will be shown at the Geneva Motor Show. Source: Pal-VPAL-V first made waves in June of 2017 when it announced it had opened the doors to a production facility in The Netherlands.
Now the company says it will showcase what it claims is the world's first flying car production model at the Geneva Motor Show taking place March 6-18.
The company says it has spent the past few years on design and setting up the production process and supply chain. However, now the company has its first production vehicle in the PAL-V Liberty. After the show, the PAL-V Liberty will go through its final steps of certification including compliance demonstration.
"The production model is the moment of truth," says Robert Dingemanse, CEO of PAL-V. "The moment where the wall between fiction and facts is torn down. A production model is the last stage in the R&D process before starting full production and delivery. All certifications required for commercialization will be granted on the basis of this production model. It is the pivotal point that separates pioneers from dreamers."
The certification means that the safety aspects of the flying car have been approved for the vehicle to be driven on roads or flown in the air. PAL-V says it is complying with existing road and air regulations rather than make a flying car that is based on not yet existing or immature technologies that will require years of new regulations. The company says this will allow for a realistic and imminent first product delivery date.
PAL-V says the first customer deliveries for vehicles will begin in 2019 and before that time the company is helping clients build experience at flying schools around the world in anticipation of the deliveries set to commence in 2019.
The Liberty flying car will have a maximum speed of 100 mph and a flight speed of 112 mph. On the road that car will get about 815 miles and in the air will have a range of about 248 to 310 miles.