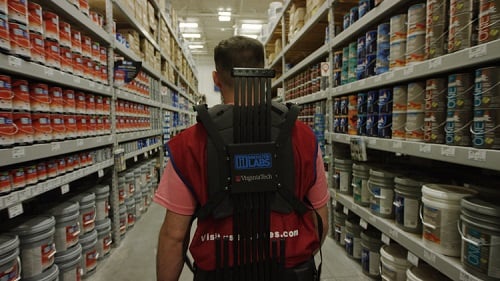 The exosuit is currently in a pilot project for stockers at a Virginia store. (Source: Lowe's)Every day employees at retail giant Lowe's are tasked with grabbing heavy objects off shelves or carrying extremely heavy items for customers.
In order to make that process easier, Lowe's Innovation Labs has teamed with Virginia Tech to develop new ways to improve how employees do their job and serve customers.
Called a robotic exosuit, the wearable device is designed to help employees exert less energy when lifting and thus become less fatigued. The exosuit is made of carbon fiber in the back and the legs, allowing it to twist and bend with a person. As they bend, the carbon fiber stores energy and when the person stands back up, the suit returns the energy to the user, helping with the lifting process.
The exosuit is the idea of Dr. Alan Asbeck, assistant professor in the Department of Mechanical Engineering at Virginia Tech. "Over the past couple years, human assistive devices have become an area of interest," Asbeck says. "But, our technology is different, not only because of the suit's soft, flexible elements, but because we're putting the prototype in a real world environment for an extended period of time."
The Virginia Tech team met with several Lowe's employees for several months to learn about their jobs and movements. The college then took what they had learned and used it to design and tweak the exosuit to fit the job conditions.
After a few months, a prototype was developed that was lightweight and reinforces proper lifting form as well as making lifting heavier objects easier. As a result, commonly lifted objects such as a bag on concrete or a five-gallon bucket of paint feels significantly lighter to the user.
The first four suits are currently in use by the stocking team at the Christiansburg, Virginia store in a pilot project and Lowe's says it has plans to expand the project if the suits are shown to lead to a less impactful work experience for its employees.