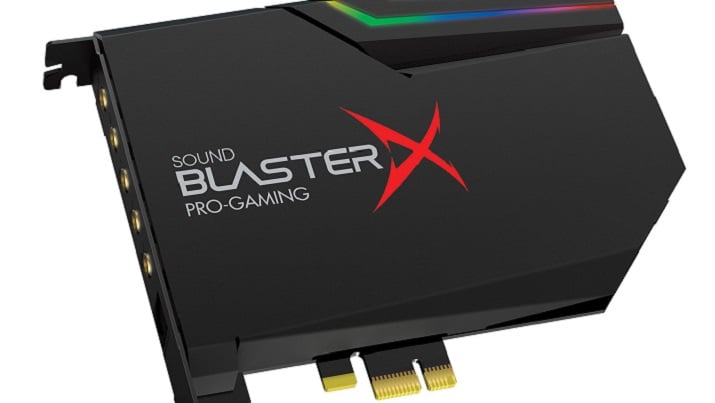 Creative Technology Ltd. has announced the latest addition to its Sound BlasterX Pro-Gaming Series, the Sound BlasterX AE-5 sound card.
The device features a gaming headphone amplifier for PCs with the force of a 122 decibel, 32-bit/384 kilohertz ESS Sabre DAC, a custom-designed 600-ohm discrete headphone amp, audiophile-grade components and proprietary audio enhancement technologies.
Key Features:
122dB DNR Sabre-Class DAC: At the heart of the sound card is the quad-core Sound Core3D audio DSP and a 122-decibel ESS Sabre-Class DAC that boosts regular motherboard audio with up to 32 times more clarity. The audiophile-grade DAC with its high dynamic range allows up to 32-bit/384 kilohertz lossless playback and high-definition audio in games, movies and music.
Xamp Discrete Headphone Amp: The on-board headphone amplifier is custom-built using discrete transistors and audiophile-grade WIMA film/foil capacitors in a dual-amp design. Each audio channel is individually amplified, and the WIMA capacitors' high heat-resistance reduces noise and audio interference. Ultra-low, one-ohm output impedance can drive sensitive in-ear monitors as well as studio-grade headphones from 16 to 600 ohms.
Additional features:
The Sound BlasterX AE-5 card also features a built-in RGB controller that comes with the customizable Aurora Reactive Lighting System. Users can choose from multiple presets, or program it with up to 16.8 million colors and various rhythms using the Sound Blaster Connect PC software.
Scout 2.0, an upgraded version of Creative's Scout Mode feature, now also includes Scout Radar. The feature enables gamers to visualize and pinpoint their enemy's position on a Scout Radar app with the user's smart device, while Scout Mode lets gamers hear their enemies before they are seen.
The Sound BlasterX AE-5 comes with support for a full-fledged discrete 5.1 speaker set-up, creating a surround-sound environment.
Technical Specifications:
• Audio/DSP processor:
Sound Core3D
• Channels:
5.1 discrete speaker out
7.1 virtual headphone surround
• Interface:
PCIe
• DAC:
ESS ES9016K2M SABRE32 Ultra DAC
o Max playback resolution:
32-bit/384 kilohertz
o DNR:
122 decibel
o THD + N:
0.00032 percent
• ADC:
Sound Core3D
o Max recording resolution:
24-bit/96 kilohertz
• Headphone amp:
600 ohm, custom-designed discrete headphone amp (Xamp)
o SNR:
116 decibel
o THD + N:
0.0009 percent
o Output impedance:
1 ohm
o Headphone impedance range:
16 – 600 ohms
• Connectivity:
Three 3.5 millimeter line out (front, rear, center/sub)
One TOSLINK optical out
One 3.5 millimeter headphone out
One 3.5 millimeter microphone/line in
One Intel HD audio front panel
Pricing and availability:
The Sound BlasterX AE-5 will be available in July 2017 at authorized dealers at $149.99. A number of websites, including Creative's own, will begin taking pre-orders on June 13, 2017.