Many engineers enjoy music. But some of them live in the rarefied air occupied by those who consider themselves to be audiophiles.
These are our friends and relatives who are seemingly just like us, but who attempt to capture the experience of a live musical performance in every room in their homes. They know the nuance of each and every sound, and often the backstory of every selection in their collections — their music libraries — and it's generally vast and varied. For those tone-deaf among us, audiophiles seem to have a magical command of all things musical. Their gift tastes can be pricey and extremely discriminating.
But despair not. You too can give a gift the audiophile can appreciate. Headphones are probably not on the list — generally speaking, that's something your loved one has, or has specific opinions about (e.g., over-the-ear cans vs. on- ear). After that, though, there are some thoughtful items that show you appreciate their hobby, even if you yourself can't honestly hear the difference between a vinyl pressing and a digital recording.
Small Speakers, Big Sound

Sonos speakers are well-reviewed, and provide bang for your buck. The Sonos One builds in Amazon's Alexa voice control, and still comes in at less than $200. Six custom-made microphones pick up your voice command from anywhere in the room, no matter how loud the music is playing. With smart voice capture and noise cancellation, it's built on the foundation of Play:One. Two Class-D digital amplifiers are tuned to match the speaker drivers and acoustic architecture. One tweeter provides a clear high-frequency response, while a mid-woofer offers spot-on playback of mid-range vocal frequencies and rich bass. Bass and treble controls let you customize sound by individual room — and it's petite enough to fit even on a bathroom shelf.

Digital to Analog Converters Clean Up

The OPPO Sonica DAC gives users superior dynamic range and timbre accuracy, which music lovers expect, without a digital hangover. This is a highly recommended product as a more affordable option in an otherwise very pricey category. While the Sonica DAC runs roughly $800, others in the category can approach $3,000.
A digital to analog converter transforms digital music back into an analog signal so we humans can hear and make sense of it. You might realize DACs are already part of equipment we use every day, including computers and smartphones — and wonder why a separate one is needed. That's because the ones included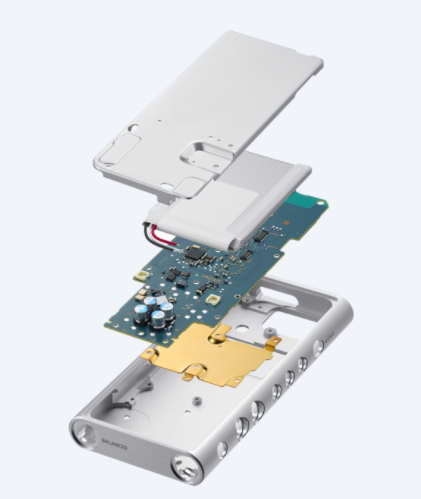 Not your father's Walkman. Source: Sonyas "standard equipment" are just not meant for a high-quality listening experience. Poor DACs can introduce unwanted noise during playback and add extra distortion due to jitter. The Sonica DAC converts digital audio to analog through its ES9038PRO 32-bit HyperStream DAC chip. By circumventing the low fidelity, poor quality DAC of traditional computer sound cards, the Sonica DAC transforms a computer into a high-performance multimedia source. Asynchronous transfer mode uses the Sonica DAC's high precision clock to drive the audio signal, rather than relying on the less accurate clock of the computer.

Audio Storage: The Walkman is Back

There is a world of digital storage available outside the ubiquitous iPod. And it's better. The hot player is Sony, with its new Walkman NW-ZX300. A sleek, modern design with a milled aluminum chassis and a 3.1-inch touchscreen is a far cry from the original portable cassette player with free earphones. This new Walkman is smaller but thicker than a cell phone (though it is a bit thicker) and weighs only 5.5 ounces. The milled aluminum frame provides noise resistance, so the sound is more stable. Couple that with the S-Master HX digital amp for additional distortion reduction across a wide range of frequencies and your favorite audiophile is in for some rich, full-bodied sound on the go.